"View's a little different from up here," said an SCCA instructor kung-fu gripping the passenger handle of the black-striped red 2014 Ford F-150 FX2 Tremor. I was criss-crossing the race line on his track like Barney Gumble at a sobriety test and of course, he was right. Truck yeah we went auto-crossing in an F-150.
In a few words; it was like sitting on one of those Arabian prince chairs... you know, mounted on an elephant? And that elephant is wearing roller skates.
Actually it was a lot more fun than that sounds. Maybe this will articulate the emotions of running an F-150 around an Auto-X course a little better:
If you don't speed Weird Internet Cartoons, here's a video of the lap... but I have to warn you, it doesn't look as dramatic on camera as it felt from behind the wheel. I promise!
Big thanks to Nick Prives for lending the camera!
Who Let This Unholy Act Happen?
Truck Yeah! was scheduled to borrow a 2014 F-150 for a standard shakedown. But when I found out the truck would be a rear-drive, sporty "Tremor" model and the SCCA happened to be hosting a local Auto-X event at the same time, I begged the race organizers and Ford to let us take some hot laps.
G/O Media may get a commission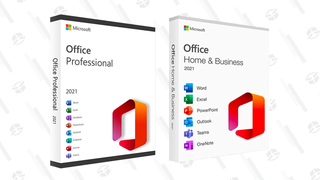 89% off
Microsoft Office Professional 2021 Lifetime License
"You sure you're parked in the right place?"
The SCCA, being the cool folks they are, obliged under the condition that the truck's times wouldn't be "official" and its driver "wouldn't be eligible for trophies." Not that there was any danger of that happening.
Ford, also cool (and always keen for attention), sent me off with their blessing and a simple warning to "be vigilant!"
Racing stripe notwithstanding, it's important to take note that the Tremor is no SVT Lightning. Not. Even. Close. It's an appearance package with some great seats, good tires and a chrome exhaust tip.
But to a guy from the north east "RWD pickup" equals "street truck" and I just had to find out how much horsepower that side stripe added.
I must also confess that before this "experiment" my racing experience was limited to shopping cart drifting and that time y'all spanked me on a go-kart track in Detroit.
What Did The Auto-X Crowd Think?
I rolled up inconspicuously enough... even the Tremor's bold side graphic couldn't outshine the sea of bright-blue Toyobarus or a race-ready Evo with orange wheels being prepped in the parking-lot paddock.
But once the painter's tape racing numbers when on, I started stirring up some serious eyebrow-raising. That said, response was overwhelmingly positive. Full-sized trucks are usually verboten on SCCA Auto-X courses, but people were psyched that an exception was being made for the sake of spectacle.
Tech inspector: "I can't believe I just passed an F-150. I'm gonna feel really bad if you die."
Racers: "Dude, SICK! That's gonna be awesome!"
Other Racers: "THAT thing? Oh, I'll be watching that one."
Starting guy, right before the green: "Just remember to keep the shiny side up."
Everybody else: "Good luck!" [snicker]
Most of the concern surrounded a potential rollover. A few people looked at the distance between the tires and the wheel-well and shook their heads with dread, but apparently not enough to try and shut this crazytrain down.
Rounding The Course
The first laps went on foot, with a group of newbies and one of the SCCA's instructors as is customary. We got to an elbow-bend corner, and the dude leading us asked, "do any of you have high-horsepower rear-wheel drive cars?"
I sheepishly raised my hand. It felt so jackassy to answer such a question in the affirmative on my first time out; "I brought that truck."
"Haha, oh. Yeah. You're gonna spin out here," he said flatly, adding "I mean, if you give it too much gas coming out of the corner," to provide some reassurance.
Enough Talk, Let's Race!
Pulling the F-150 into the grid felt like Garth Brooks' experience crashing his ex's wedding (surely "friends in low places" is on your iPhone). A MINI pulled up alongside me and its pilot craned his neck to see what kind of goofball he was up against, shaking his head after we exchanged thumbs ups.
Officials started waving their arms and engines were being fired up. It was on! I snagged a smelly loaner helmet and requested an instructor's company — I'd basically forgotten the course already.
All the SCCA guys were eager to oblige, and just about everybody a got a ride before it was time to go home. This just might be the only full-sized stock pickup truck to wear a number at an SCCA Auto-X.
Moving through the line of tiny cars I could have hauled home in my bed... I lined up on the start. With traction control on and transmission in "D," I sat there shaking with gif-able anticipation until somebody unceremoniously said; "go."
My co-pilot called me through the first slalom. We were listing left and right at what felt way too far behind the trucks wheels, our eyes bulging to cartoon-caricature proportions.
I let off a little for a 90º right turn, and with a "WHOOOOA!" my passenger and I came careening into the second slalom.
We came out of those cones way too hot, and a big, sexy powerslide wasn't going to keep this thing on course.
Booting the brakes for the next 90º right, the truck's tires dug into the asphalt like picks on an ice climb. Reduced to a speed I felt comfortable with cornering at, we surged ahead through a long, easy left.
We carried momentum through the next turn; that big right I'd been "warned about." I cut speed, with a little less drama this time, and got galloping again through a long left into the last slalom.
It's amazing how much more intense the experience can be from inside the cabin, compared to how flat the truck looks on tape.
Traction Control: Off
"...soon..."
"You're not a total fruitloop, so go ahead and try it a little faster next time," said the instructor that had taken my first lap with me.
Well, ok? I cut traction control and figured out how to limit the transmission to first and second gear — ready for a proper lap.
The EcoBoost engine has plenty of power, but its instinct is to save fuel not smoke tires. Keeping the revs up staying below third changed the racing experience completely, what felt like a solid pull out of corners earlier was now a whip-crackin' blast ahead to the tune of whistling turbos.
Or, as a spectator described it; "Holy shit man, that shit was awe-some. I didn't expect a blowoff-valve on an F-150 man! So Sweeeeet." Side note; I think the guy I met was the "HOOSIERS BRO" guy.
Dropping traction control made the truck feel a little looser around the cones and forced me to brake a little harder, but I didn't think the difference was that dramatic. Maybe if I had some legitimate racing skills, that'd be a different story.
But for all the squealing my passengers and I did from the cabin, the truck never felt close to actually rolling over, even in the tighter corners.
And even though the mile-high riding position made it tough to clip cones, the F-150's steering response was surprisingly good. The truck wasn't nearly as tail-happy as I'd expected it to be either.
In fact, after watching my GoPro lap I realized the high vantage point was the truck's biggest source of drama. It kept its composure well enough to net me times in the low :50's on a course SCCA champion Jeff Hurst laid down a day-best of :39 in a modified RX-8. Guess what, I wasn't last either!
So the F-150 Tremor wasn't competitive with sports cars, but it's a lot better behaved around an Auto-X course than it has a right to be. In reality, that translates to good response in a panic, but if you really wanna go nuts I think lowering springs and more aggressive boost management could make this thing into a pretty serious street truck.
Images: Andrew Collins, Justin Rastegar