Takata, the beleaguered Japanese auto parts supplier currently under fire for deaths and injuries related to explosive airbags, has agreed to a recall of 33.8 million U.S. cars with those airbags for what is believed to be the largest single consumer product recall in American history, according to news reports.
The AP reports the announcement will be formalized later this afternoon by the National Highway Traffic Safety Administration. Some of Takata's driver and passenger airbags have defective inflator devices that cause them to go off unexpectedly and fire shrapnel into occupants. Six deaths worldwide and more than 100 injuries have been reported.
NHTSA officials said a list of cars affected by the recall is not immediately available, and that they are waiting for automakers to supply a complete list of affected vehicles. When that happens — and who knows how long it will take — they will update their SaferCar website with the information.
The explosive airbags have affected Toyota, Honda, Nissan, Subaru, General Motors, BMW and Chrysler models, among others.
The Detroit News, first on the story and citing sources familiar with today's announcement, says Takata filed four defect information reports with U.S. auto safety regulators. It's almost twice the 17 million vehicles in the U.S. that have been recalled for this problem since 2013.
G/O Media may get a commission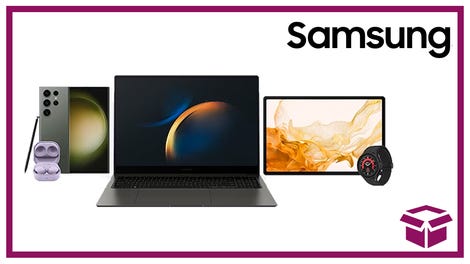 24 hour deals
Discover Samsung - Daily Deal
It's not just the biggest car recall ever, it's believed to be the biggest product recall ever, the News says:
The decision to declare them defective is expected to prompt what's believed to be the largest U.S. recall of any consumer product, surpassing the recall of 31 million bottles of Tylenol in 1982 following a poison scare.
For a time the airbag recalls were limited to areas of high humidity in the U.S. But today's announcement from NHTSA expands the passenger-side airbag recall to a nationwide one, and also expands the existing nationwide recall of driver's side airbags.
The exact cause of the detonations isn't known, but it is moisture-related, NHTSA officials said:
Testing and investigation by Takata, auto manufacturers, and independent researchers have not yet established a definitive root cause of the inflator malfunctions. NHTSA's analysis of test results and engineering reports from independent organizations points to moisture infiltrating the defective inflators over extended periods of time as a factor.

Over time, that moisture causes changes in the structure of the chemical propellant that ignites when an air bag deploys. The degraded propellant ignites too quickly, producing excess pressure that causes the inflator to rupture and sends metal shards into the passenger cabin that can lead to serious injury or death.
More details as we get them.

AP Photo: Stephanie Erdman, an Air Force 1st lieutenant, describes her experience when she was injured by metal fragments from a defective airbag made by Takata of Japan as she testifies on Capitol Hill in Washington, Thursday, Nov. 20, 2014.
---
Contact the author at patrick@jalopnik.com.