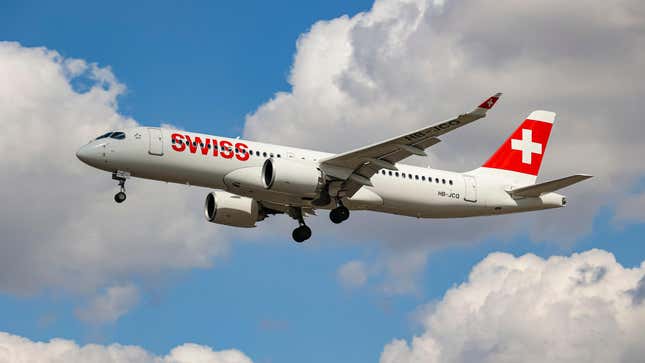 Commercial airlines don't always prove to be the best at managing check bags for their passengers. Last year, Delta Air Lines had to fly a plane with no passengers and 1,000 pieces of misplaced luggage across the Atlantic Ocean. As with delays and cancellations, baggage management hasn't gotten any better over the past year. A recent Swiss International Air Lines departed with no baggage because of operational shortfalls.
AFP reported that a Swiss flight from Zürich, Switzerland to Bilbao, Spain was forced to leave the gate without loading any luggage. The Swiss flag carrier claims that the incident happened because of a shortage of ground staff. The flight was delayed over an hour as the crew onboard waited for ground crew to arrive. Eventually, the flight was forced to leave for Spain. According to Simple Flying, the plane was needed to complete a return flight from Bilbao before the airport in Zürich closed for the night.
The passengers on the flight were completely unaware of the situation until they arrived in Spain. The pilot apologized for the delay and mentioned "a lack of qualified personnel" but didn't state that there was no luggage in the cargo hold. Passengers reportedly spent two hours waiting at the baggage claim before staff from Spanish airline Iberia told them about their bags being left in Switzerland. There was no Swiss staff in Bilbao to inform the passengers.
A Swiss International Air Lines spokesperson told AFP, "We understand the situation is not favorable for the people involved, and of course we regret the inconvenience." The airline also stated it is investigating what exactly led to the incident and why no ground crew was available in Zürich.