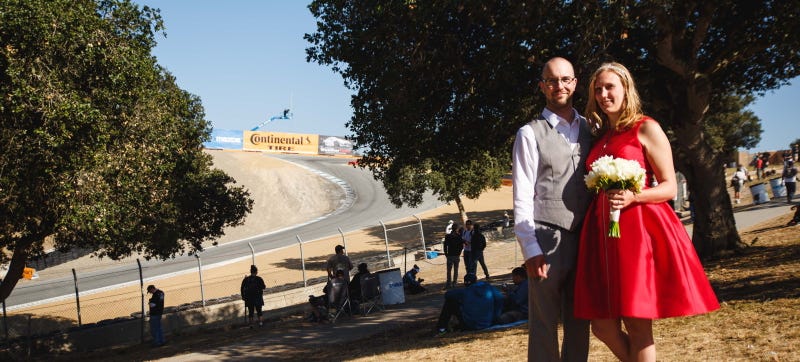 Mantella Autosport crew member Joe Ferguson had a surprise after their last race at Mazda Raceway Laguna Seca: a suit. He was planning on marrying fiance Clair on the Monday following the Continental Team Sports Car Challenge's race weekend there, but he found a surprise waiting at the Corkscrew.
That's right: his fiance lined up their wedding to happen at the base of the most famous turn of his favorite track as a surprise.
The entire team came down to join in the fun. Mantella Autosport had a frustrating race earlier in the weekend where both of their Camaros collided with each other, but the number 80 and number 8 cars ultimately ended up fighting through to finish sixteenth and ninth in the CTSCC's hypercompetitive Grand Sport class, respectively.

Regardless, Mantella's number 8 Gulf Oil Z.28/R is perhaps the best looking Camaro ever, and it looks even better on Laguna Seca.

Once the race day was over, though, it was time to celebrate for a different reason. Everyone met at the Corkscrew for Joe and Clair to exchange their vows.

Say it with me now: awwwwwwww.

Best wedding location ever? Best wedding location ever.
Photo credits: Mantella Autosport (car on corkscrew), Sawmill Creative (wedding photos)

---
Contact the author at stef.schrader@jalopnik.com.