Subaru says the buyer of its all-new XV Crosstrek will be relatively young, maybe have a few small children, enjoy hiking, biking, racing triathlons and partake in a multitude of outdoor adventures. A buyer fitting this demographic will be looking for a practical car that presents a cool, hip appearance and is a hoot to drive, they continued.
Well, I am relatively young with a small family. I enjoy hiking, biking and I race a ton of triathlons. I love adventures in the wilderness. I want a cool, hip car that maintains practicality and makes me smile. So I am effectively the guy Subaru believes should be buying this car. So there is but one question: would I actually buy it?
Full Disclosure: Subaru wanted us to drive the XV Crosstrek so bad they sent me all the way to Hawaii, put me up in the hotel where they shot the movie Forgetting Sarah Marshall, took me to the location where they filmed Lost and Jurassic Park and fed me dinner on a secluded beach. They even gave me a paddleboard to try out. I fell, a lot. And I cut my toe on coral. I also wore a particularly precious pink flower necklace, and may, or may not, have consumed too many Mai Tais.
Looking at the all-wheel-drive XV Crosstrek you'd be forgiven for mistaking it for an Impreza. By all accounts it is very similar. Subaru expects to sell 12,000-15,000 Crosstreks per year and questions arise as to whether the sales of models like the Forester, Impreza and even the Outback will end up becoming diluted with the introduction of the XV to US markets. This question had been of concern to Subaru too, but extensive consumer testing apparently showed people were able to distinguish between the Impreza, and that this younger, hip demographic would open up a whole new line of customers.
Being the demographic that they are attempting to attract myself, I can say I like the cooler vibe it presents. It is functional too, which is great, but the big key, I believe, is whether it is fun to drive. If it is boring, then the younger demographic might be too busy on their own Hawaiian adventures to be bothered to checking the XV out. In short, it can't just look cooler. It has to drive cooler, too.
G/O Media may get a commission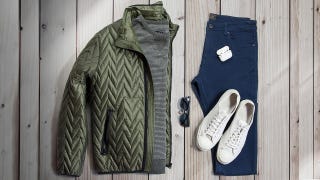 60% off
Jachs NY Fall Sale 60% Off
The XV Crosstrek delivers its goals of being a stylish compact crossover. The black fender cladding and new bumpers give the car a more rugged appeal, complemented by special 17-inch wheels. A fetching bright orange paint is available and while that might sound putrid, it actually looks great. The car enjoys 8.7 inches of ground clearance, which is a sizeable chunk higher than the Impreza at 5.7". The grille is unique to the Crosstrek and dark-tint privacy glass is standard, so you can change your wet swim shorts in the car, with total confidence that the old lady walking her dog outside can't see your buttocks plastered to the window. Its look portrays the adventurous nature intended and it begs to hit some off-road trails in search of Sasquatch or wild pigs chasing baby chickens (which I actually did find in the Crosstrek -– not Sasquatch, but the chicken chasing pig).

INTERIOR (6/10)
Well, it's an Impreza inside, basically. If you opt for the limited edition you will be granted heated leather seats, which are decently comfortable. The cabin is not luxurious by any stretch of the imagination, but nor would you expect it to be. It is functional and cost-effective, with options –- such as the moonroof and nav –- which line it up nicely with other cars in the compact crossover division. The steering wheel feels a little thin and flimsy and that was my only major complaint. On the bright side, it is telescopic, so finding a comfortable driving position shouldn't be an issue. Cargo space is roomy at 22.3 cu. ft, enough to fulfill most activities a young, hip so-and-so could dream up.


ACCELERATION (3/10)
Here the XV Crosstrek falls flat.
The car bears the same flat-four 2.0-liter Boxer engine as found on the Impreza. It produces a less-than-earth-shattering 148 horsepower and 145 lb-ft of torque. And you certainly feel less than excited when standing on the throttle. The car really is rather slow. When you attack the throttle the little engine feels like a woman reading 50 Shades of Grey; she ignores you while she finishes reading the page. But even when the engine does respond, it doesn't deliver much. It isn't that the car needs to be a ton faster, or anything like that, but I wanted more response. It needs to be nippy and zippy but instead it is slow and tedious.


BRAKING (5/10)
Front brake rotors are larger on the Crosstrek than on the Impreza but I'd be lying if I told you I could tell any difference. Honestly, our drive never allowed me to get a good sense of the brakes under heavy load. They felt, well, like brakes, really. Not too grabby, pedal wasn't spongy. They never provided a hint of trouble, even on some steep descents, so all in all they worked as intended.


RIDE (8/10)
When you want a car that can handle off-road driving, but doesn't feel like being drunk on a cruise ship when tackling normal roads, then you may need a compromise. The XV Crosstrek delivers that compromise in spades. It feels reasonably firm on standard road driving, and doesn't rock a boatload of body roll. Take it to a rough off-road section and it rides the bumps and dips with poise and comfort. It felt like the perfect balance had been achieved to satisfy every condition. After all, it's a Subaru. And this is what Subaru does best.
But still, as an enthusiast, I'm looking for a car that is a bit more communicative with a firmer ride. I'd gladly give up the cushioned feeling over bumps to know even more about what the road surface is doing below me.
Engine: 2.0-liter Boxer four
Power: 148 HP / 145 LB-FT
Transmission: Five-speed manual / "6-speed" CVT with manual mode
0-60 Time: N/A
Top Speed: N/A
Drivetrain: All-Wheel Drive
Curb Weight: 3087 lbs-3197 lbs
Seating: 5
MPG: manual/CVT City / 23/25 HWY/30/33 Combined
MSRP: Starts at $21,995
HANDLING (5/10)
The Impreza chassis has been stiffened in multiple points. It has a double wishbone rear suspension and a wider track that enables the car to handle not dissimilar to the Impreza, despite its extra height. I couldn't say it left an impression on me from behind the wheel, however. It is a machine that competently gets its job done on the road, but was it fun to drive? No. Although I am sure most of this is due to the powerless engine. Perhaps a bit of extra torque would have allowed the handling to present itself a little more prominently.
I did a lot of tough off-road in the Crosstrek and here (as mentioned in the Ride section) it performed extremely well. The additional ground clearance was welcome over some of the tougher, rockier sections, making the Crosstrek more than capable of handling some wild adventures. But capable isn't everything. I enjoyed the drive immensely, but that was because of the magnificent Hawaiian scenery. Not because of the car I was driving.


GEARBOX (5/10)
Two transmissions are offered - a five-speed manual and Subaru's Lineartonic Continuously Variable Transmission, or CVT for short. Because of the lack of manuals on site, I didn't get to drive one (although I hear it was decent). I therefore spent my day with the CVT gearbox and its six-speed flimsy paddle shifters. The CVT features the Active Torque Split version of the Symmetrical AWD, whereas the manual uses a viscous-coupling locking center differential providing a 50/50 front rear power distribution. The CVT is ok. It is nothing to write home about and achieves its job in the way one would expect. Shifts occur in a somewhat timely manner. The paddle shift, while feeling very cheap, worked efficiently and came in handy when on some treacherous off-road sections, allowing you to pick your own gear. But honestly, just leaving it in auto worked well too.


AUDIO (6/10)
Let's face it, the weedy little engine does not provide many auditory qualities, so we must rely on a good sound system to drown out the engine's mouse-like whimper. It comes with a 6-speaker system that does sound jolly good. Quality was crisp and it did indeed mask out the engine noise. Our Subaru rep cranked up some reggae on our way back from dinner and, although I admittedly had consumed multiple Hawaiian cocktails, I bopped my head like the Rasta that I am.


TOYS (6/10)
The XV Crosstrek comes with a solid selection of available toys, such as Bluetooth connectivity and audio streaming, iPod compatibility, USB port, back-up camera, navigation system - displayed on a 6.1-inch touch screen LCD with voice control, iTunes tagging, XM Satellite Radio and XM NavTraffic, making it nicely equipped.

VALUE (5/10)
Pricing starts at $21.995 but exact cost for the two trim levels (Premium and Limited) has not yet been released. The cost for the base Impreza hatch is $18,745 and a Forester 2.5 Premium is $23,295.
Is it worth the extra over the Impreza? Based on its more stylish appearance, I say yes it is.
Compared to its competitors the price seems fair. A Nissan Juke is slightly less, whereas the Honda CRV is slightly more, and it is right about on par with the AWD Hyundai Tucson. This puts it right about average, therefore deserving of an equally average 5/10.
As discussed, I appear to be their target demographic and I posed the question of whether I would buy one. I mentioned it needed to have that fun factor and although the styling and functionality of the car ticks all the boxes, the car did not deliver the soul and heartbeat I was looking for.
It's a good car. A solid car but it doesn't leave you wanting more. It's like having an attractive girlfriend (or boyfriend) who looks after you and cooks a delicious meal every night. But in the bedroom she lies on her back, expressionless and doesn't make a sound. You are content every now and then for a quick ride, but eventually you're going to get bored.
55/100
EXTERIOR (6/10)
INTERIOR (6/10)
ACCELERATION (3/10)
BRAKING (5/10)
RIDE (8/10)
HANDLING (5/10)
GEARBOX (5/10)
AUDIO (6/10)
TOYS (6/10)
VALUE (5/10)