This is The Morning Shift, our one-stop daily roundup of all the auto news that's actually important — all in one place at 9:30 AM. Or, you could spend all day waiting for other sites to parse it out to you one story at a time. Isn't your time more important?
1st Gear: "We Only Understand The U.S. To A Certain Degree" Said VW
Remember when Katy Perry stood on the hood of a heavily de-contented Volkswagen Jetta and VW said 'Hey, your un-virginal college-aged women seem to love this car, what if we made it cheaper and shittier! We'll sell a million!"
They sold more of them, actually, but the 'cooler and better than thou' image quickly vanished as they sold what was basically a duller Toyota Corolla. And then they tried to do it with the Volkswagen Passat, and they sold more of those, but never got close to the Toyota Camry in sales.
G/O Media may get a commission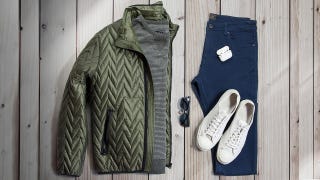 60% off
Jachs NY Fall Sale 60% Off
(Side Note: Remember when Motor Trend made the Passat the "Car Of The Year" in 2011? If you ever need more proof that the COTY is just a giant press release, here you go.)
Here's the nut from Bloomberg:
"We understand Europe, we understand China and we understand Brazil," VW Chairman Ferdinand Piech told Bloomberg News at an event in Vienna this month. "But we only understand the U.S. to a certain degree so far."
Maybe talk to your cousins at Audi, Bentley, and Porsche? They all seem to get it.
I was there when VW announced they wanted to be the biggest automaker by 2018, something they may be as far as 33% from when 2018 rolls around. You know the question that should have been asked in Wolfsburg? DO WE WANT TO BE THE WORLD'S BIGGEST AUTOMAKER?
It forces you to make cars with the goal of expanding market share, which always leads to making cheaper and blander cars. Toyota became the biggest automaker and churned out shit. GM was the biggest automaker for years, turning out more shit. Being the world's biggest automaker kind of sucks.
Volkswagen, you got out Volkswagen'd, plain and simple. And you got out-Volkswagen'd by Ford and Subaru. What did Ford do? They brought a European platform and sold it to America, charged a little more than Toyota, and made higher profits. You made a shittier American version of your car for fatasses.
And then Subaru...
2nd Gear: You Definitely Want To Go To Subaru's Bar Mitzvah
Subaru is going to have to adjust its profits, again, and they're going to have to adjust them upwards, again. According to Hans Greimel, Subaru now expects to make a net income of $1.81 billion in the fiscal year that ends in March 2013, up from the last already crazy estimate of $1.23 billion.
Will Subaru be the largest automaker in the world? Nope (although they're sort of close to it if you count them as part of Toyota, which most people don't).
Total global sales will likely increase 11% to 807,000 units, which is far, far, far from making them the biggest automaker. Those profits, tho, those profits are tight.
How did Subaru do it? They continued to build the cars they're known for. Yeah, the Legacy is a bit ungainly, but white people in cold ass climates looooooove Outbacks. Can't afford an Outback? A Subaru XV is just a raised Subaru Impreza with funky body-cladding, but people are eating that up.
Did they make the new Subaru Forrester gigantic and soft and dumb? Nope. They just continued to make it better.
They also still trade on being a cool, niche, fun brand that uses words like "Love" in their advertising. This is right out of the Volkswagen playbook.
3rd Gear: North America And China Are Cool, Europe Still Isn't
I'm going to have to write this gear every quarter, or rather summarize the WSJ version.
You want the bottom line? Most people are finding a way to sell cars in the U.S. (well, not VW) and those who venture to China are also hotly fighting over the market. Chrysler is doing well. Ford is doing well. Honda is doing well. We expect that Nissan and Toyota, when they announce, are doing well. Hyundai has been telegraphing that it's going to have a tough second half of the year, but we'll have to wait and see.
And Europe is still a mess for almost everyone. The best you can do is a slight increase in sales, a not-as-bad-as-expected loss, et cetera.
4th Gear: Let's Just Get It Over With
Sergio Marchionne, Fiat/Chrysler's slightly bearded CEO, is basically saying he wants to get this IPO deal done rather than stall so that he can get an agreement with the UAW trust that owns 41.5% of Chrysler. The 41.5% of Chrysler that Fiat wants.
This is an odd reversal from what most people expected, myself included. I'd hoped, as some had offered, that Chrysler would borrow more money and get the rest of the UAW and use all that money to try and improve European operations.
Instead, as the Freep reports:
"The horse left the barn, so let's keep on trucking," Marchionne said.
Is he resigned, or is that sneaky mutha fucka in the black sweater working an angle here?
5th Gear: Dealers Are So Old Fashioned
We've heard this before, but we got more info today on GM's plan to sell cars on the Internet from Melissa Burden.
The newest space at Patsy Lou Chevrolet Buick GMC is a different kind of showroom: Low-key greeters welcome visitors, but they don't push. Big-screen TVs air videos and product information. There are cars to look at, sit in and drive — and customers can even record video of test drives with a GoPro dashboard cam.
So it's just like most people experience the Internet… in a room at a car dealership.
While GM does have a tool that let's people shop online, everything still ultimately goes through a local dealership:
"It doesn't mean we are going to try and bypass our dealers, but why not in this tech-savvy culture we have, this economy we have, (allow) the millennial to come in and ... sign and go,' " Akerson told analysts, referring to those generally younger than 30.
Or anyone who hates the normal process of buying a car.
Reverse: How The World Has Changed
On October 31, 1957, the Japanese car company Toyota establishes its U.S. headquarters in an old Rambler dealership in Hollywood, California. Toyota executives hoped to saturate the American second-car market with their small and relatively inexpensive Toyopet Crown sedans. Toyota Motor Sales, U.S.A. sold its first Toyopet at the beginning of 1958; by the end of the year, it had sold 286 more, along with one behemoth Land Cruiser. Toyota cars were slow to catch on in the United States—it took until the mid-1960s for the company to gain a respectable chunk of the American market—but when they did, they did so with a bang. In 1972, thanks in large part to its success in the United States, Toyota sold its 1 millionth car, and three years later Toyota became the best-selling import brand in the United States.
[HISTORY]
Neutral: How Can Volkswagen Be A Hit In The US Again? Much as we love the idea of the GTD, there has to be more than that.
Photo Credit: Getty Images