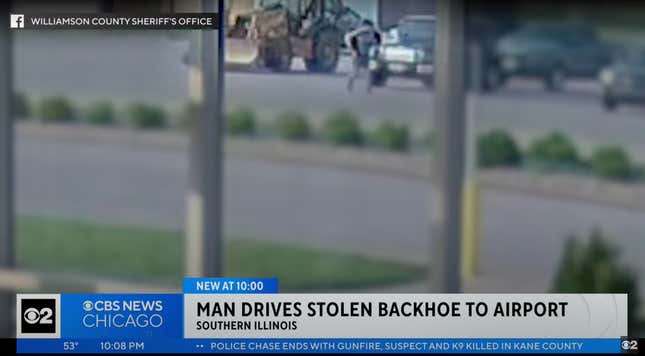 The Williamson County (Illinois) Sheriff's Office released a press statement on Tuesday saying that a man had stolen a backhoe to drive 10 miles to catch a flight at a local airport, which he entered with a guitar case in hand. On Wednesday, the Sheriff's Office gave an update, because "the office has received numerous inquiries regarding this matter."
The first press statement is as follows:
Williamson County, Illinois - On May 18, 2023, Williamson County Sheriff's Office Deputies responded to a call for service at Veterans Airport of Southern Illinois.

Upon arrival Deputies were informed that a backhoe was parked in the airport parking lot which was suspicious in nature.

A few moments later the owner of the backhoe arrived on scene and identified the equipment as belonging to his company. The owner advised that the backhoe was parked on a job site located at the intersection of Illinois Route 13 and Spillway Road.

A subsequent investigation disclosed that [a Carbondale man], stole the backhoe and used it as transportation to drive approximately 10 miles to catch a flight.

Security camera footage shows [the man's] arrival and parking of the backhoe in the airport parking lot. He is captured on video walking from the equipment carrying a guitar case and entering the airport lobby.

Baggott has been charged with Theft (in excess of $10,000); a felony.

The Williamson County Sheriff's Office would like to thank the Williamson County Airport Authority and Williamson County State's Attorney Ted Hampson for their assistance.
Video of part of the incident showed a person parking a backhoe and getting out:
According to the update on Wednesday, the accused was arrested in Elko County, Nevada, on Sunday, and released the same day. He was arrested again on Monday "for charges related to the possession of an additional stolen vehicle" and held on a $40,000 bond. It is true that getting to airports in America is generally a pain in the ass but there is probably a better way to do it than via stolen backhoe.