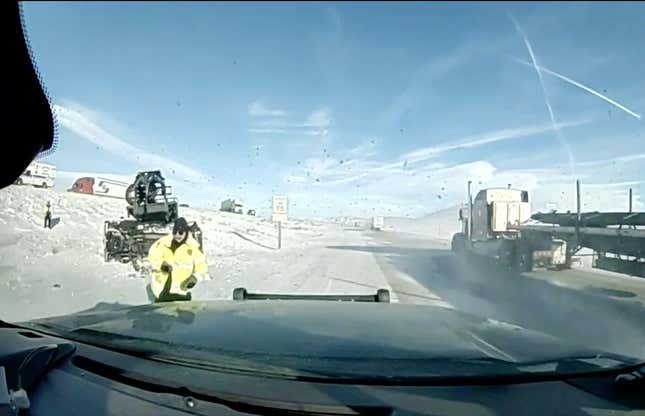 While almost all of the folks in the mostly empty Cowboy State have experienced an intense winter this year, this officer with the Wyoming Highway Patrol takes first place after managing to side-step a speeding semi.
The close call happened on I-80 near Rawlins, Wyoming. WHP posted the video on its social media accounts on Tuesday along with a friendly reminder to slow down and move over for first responders.
Officials told WBTX that the unnamed officer was assisting a driver on the shoulder when the semi truck driver lost control of his rig on the snowy roads and rammed his way on to the median. Due to his quick thinking (and quick feet) the officer wasn't hurt in the incident and neither was anyone else.
Y'all, Wyoming is wild. Video emerged Thursday of a snow-choked I-80 freeway that might as well be atop the mountains of Caradhras in Middle Earth. High winds blew the trailer part of a tractor-trailer earlier this month, crushing a parked patrol cruiser under on that same highway. Bad weather this winter has regularly led to officials issuing wind advisories to tall trucks and multi-day closures to highways and even secondary roads. This week's blizzard dumped 9 inches of snow on the ground with winds of up to 70 miles per hour, the National Weather Service reports.
No wonder Wyoming Republican State Senator Jim Anderson wanted to ban EVs — you need at minimum a team of sled dogs to get anywhere.
H/t: Boing Boing