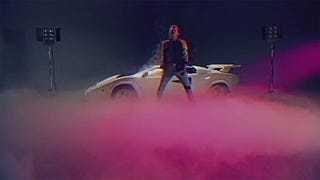 Why yes, that is the best sentence you could possibly read on a Friday night. I agree.
The anthem in question from American hero and German singing sensation David Hasselhoff is the theme song to Kung Fury, a movie that's being produced through Kickstarter right now.

Kung Fury stars Kung Fury, a Lamborghini Countach-driving cop with deadly hands who quits the force after blowing up an entire city blocks and hacks time to go back and kill the worst criminal of all time — Adolf Hitler.
I can't wait. In the meantime, I have the ultra-smooth voice of The Hoff with synth music from Mitch Murder to tide me over.
Happy Friday, everybody!