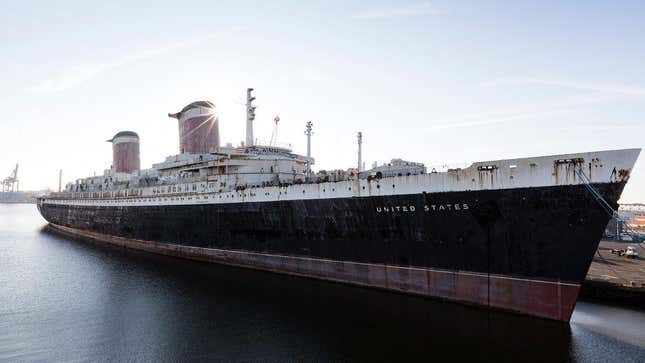 The SS United States was one of the greatest and fastest ocean liners of the 20th century. And while the ship has clearly seen better days, it has been a landmark at Philadelphia's Pier 82 on the Delaware River, where it has sat for nearly 30 years. But the ship's future at the pier may be in question as the Delaware Online reports pier operators have raised the rent on the SS United States' "parking spot" — and the ship now also faces eviction.
The problems started in late 2021 when Penn Warehousing, the landlords for the piers along the river, sent a letter to the owners/operators of the United States, a nonprofit organization called the SS United States Conservancy. In it, Penn Warehousing essentially said that that the ship had gone too long without a rent increase, so like everything else on the planet, the price was finally going up and double to $1700 a day.
The Conservancy of course didn't agree with that new rate. The Conservancy kept paying what they had always paid, a rate of $850 as well as producing a lease agreement that showed the rate was essentially rent controlled "until the vessel is removed from its current location."
Fast forward to March of '22 and Penn Warehousing files an eviction notice, citing unpaid back rent totaling $160,000. The Conservancy wasn't going down without a fight. They fired back arguing that Penn Warehousing couldn't just raise the rent the way they did, and accused the landlord of raising the rent to financially hinder the ship and force it out of the port. After an initial dismissal of the case, a trial is finally set to start between The Conservancy and Penn Warehousing in September.

Despite the drama over the pier rent, the Conservancy still has plans moving forward to renovate the aging ship. However, those plans now involve the possibility of finding it a new home, which I guess is fine, as President of The Conservancy Susan Gibbs says that the ship's place at Pier 18 was never supposed to be a long-term home. It'll just come down to what the group decides are the next steps for the ship. "From the beginning, we have seen three possible paths for the vessel: Redevelopment as a stationary attraction, converting the ship into an artificial underwater reef or scrapping the vessel," Gibbs said.