I have to hand it to Victor Muller. When they were about to get evicted, he said everything will be fine. When Spyker's creditors pushed his company into bankruptcy, he told us it's not over yet. And it turns out he wasn't bluffing. Or at least not entirely.
Spyker filed an appeal on December 29th, 2014 with the Appeals Court of Leeuwarden, the Netherlands. Yesterday, they ruled that the previous decision declaring Spyker bankrupt on December 18th, 2014, is overturned and the bankruptcy declared null and void with retrospective effect.
Basically, this means Spyker wasn't bankrupt for a second. Well, almost.
G/O Media may get a commission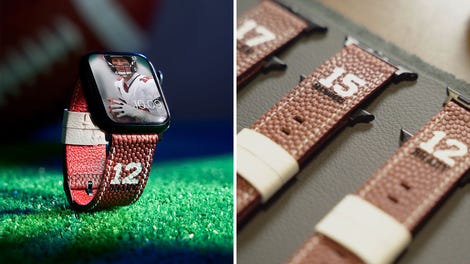 Official NFL PRODUCTS
Official NFL Apple Watch Bands
Here's Mr. Muller's official statement:
On December 18th, last, perhaps the blackest day in our 15 year history, I announced that as far as I was concerned, this was not the end and we would live up to our commitment to relentlessly endeavor to resurrect Spyker as soon as practically possible.

But even I could not foresee at the time how quickly and unscathed Spyker would emerge from a situation which usually heralds the end of an era. The Appeals Court's ruling has eradicated the bankruptcy and put Spyker back in "Chapter 11". Since we spent the time between lodging the appeal and today's ruling to reach an agreement with the majority of our creditors, we should see Spyker exit moratorium of payment in a matter of weeks.

Following that exit we will forthwith pursue the execution of our plans which include the introduction of the Spyker B6 Venator, our entry-level luxury sports car which will give a larger audience access to the Spyker brand, and the merger with a US based manufacturer of high performance electric aircraft, the exciting new sustainable and disruptive technologies of which will find their way into full electric Spyker cars in the foreseeable future.

I again wish to express my gratitude to our customers, dealers, suppliers and of course our shareholders, employees and Board. Their loyalty and support was vital to build the brand over the past decade and a half and has now proven invaluable to achieve the overturning of the bankruptcy ruling and subsequent exit from moratorium so we can continue building our business for many decades to come.
Does this mean Spyker was just shifted from essentially a Chapter 7 bankruptcy (liquidation) to a Chapter 11 bankruptcy (administration and reorganization)?
Mike actually talked to Victor yesterday, so we'll have more on this very soon. Until then, just listen to what he told the BBC about two years ago:
When he says failure is not an option, he is certainly not kidding.