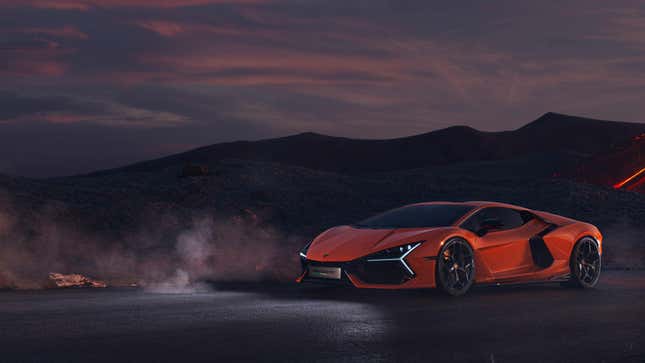 When Lamborghini announced the Revuelto earlier this year, destined to replace the vaunted Aventador as the apex predator from the House of the Raging Bull, reviews were mixed. Would the hybrid system be revolutionary or overhyped? Was the styling a clean jump forward for Lamborghini, or did it look a bit too McLaren?
Those questions are still yet to be answered, but we can now firmly answer one big one: Will the V12 still sound fantastic? Dear reader, I'm happy to report that the answer is a resounding yes.
Spy shooters at the Nurburgring spotted this bright blue Revuelto out on a test lap and captured a few minutes of the supercar screaming through the German countryside. We may not have any kind of official lap times or data, but we do have that beautiful V12 sound.
The video also features some shots of the Revuelto driving around town, but none seem to be utilizing the car's all-electric drive mode — there's always an exhaust tone, not the quiet whistle of pure electrification. Whether that means anything for the mode is still a question. It's possible Lamborghini simply wasn't testing this particular car as an EV and didn't need to engage that mode on this particular test day.
The video also gives us an interesting view of the Revuelto's active aero package, specifically that oddly-shaped rear wing. It features two raised sections in the middle that wrap around the exhaust pipes when lowered, which would seem counterintuitive to the whole "directing air" thing. I'm sure Lambo engineers have thought this through better than I have, but it's still an interesting feature to spot.