Sad news for anyone looking to break any records this year: there isn't enough salt to race on the salt flats. According to 9 News, Speed Week has been cancelled for the second consecutive year due to excessive rain.

"If we tried to run a race, we'd be looking for an accident," Utah Salt Flats Racing Association president Dennis Sullivan said of the thin salt on Course #2 to The Salt Lake Tribune.

The Bonneville Salt Flats require a certain amount of dry salt in order to run. The Salt Flats Racing Association uses four courses, but only the Course #1 "Short Course" (3-5 miles long) and Course #2 "Long Course" (5-7 miles long) are used during Speed Week.

Per The Salt Lake Tribune, the Southern California Timing Association released a statement Monday saying that the condition of the salt flats is so wet and thus, inappropriate for racing. Only one course has 2.5 miles open—far less than the length needed for the high-speed runs Bonneville is famous for.

G/O Media may get a commission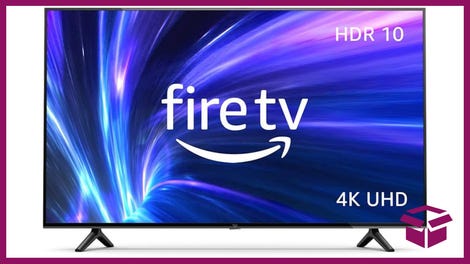 42% Off
Amazon Fire TV 50" 4K Smart TV
According to Hot Rod, 260 of 338 Speed Week entrants voted to run Speed Week anyway if they had so much as a single 3-mile course to use. Unfortunately, the usable space on the flats came up short.

Thus, not only were this weekend's Utah Salt Flats Racing Association "Test and Tune" sessions cancelled, but Speed Week was cancelled as well.

According to The Salt Lake Tribune, levels of salt on the salt flats this year are dangerously low, as mineral extraction companies divert water away from the lake, preventing the ebb and flow of the salt water from recharging the salt as usual. This has contributed to wet and patchy spots on the courses that would be a major risk for competitors to race on (and likely get stuck in).
"Going towards the big end of the long courses, it gets really rough," said SCTA president and race director Bill Lattin to Hot Rod. "And before that it's too wet; a bunch of people are getting stuck."
According to a statement SCTA member Russ Eyers made to The Salt Lake Tribune, over 600 people had preregistered to do race during Speed Week this year, which was supposed to run on August 8 through August 14.

Hot Rod reports that there are no plans to cancel the World Finals race that runs from September 29 to October 2 at the moment. While cancelling Speed Week is a drag (ba-dum-tiss), many competitors are looking at it as an opportunity to get more preparation time in before World Finals.

Photo credit: Getty Images
---
Contact the author at stef.schrader@jalopnik.com