On Monday morning, in Dallas Texas, Southwest Airlines will roll open its hangar doors to reveal... well, this. This new paint scheme that suggests co-branding with Hotdog-On-A-Stick. A montage of the primary colors. Rumors surfaced over the weekend, and they've turned out to be true.
This new livery, bestowed upon a 737-800 was leaked Saturday evening all over Twitter and Facebook, and aviation fans are abuzz. Unless you count a "not bad," I haven't seen a positive response about it yet, even from some of Southwest's frequent flyers and their own employees.
G/O Media may get a commission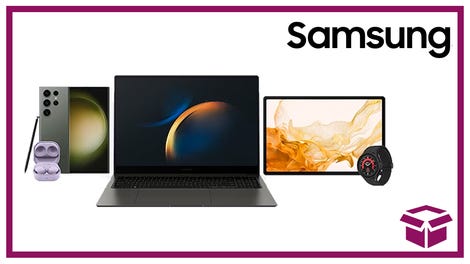 24 hour deals
Discover Samsung - Daily Deal
When Southwest introduced its Canyon Blue livery in 2001, company co-founder Herb Kelleher said, "We've incorporated a new color to better reflect a more mature airline, but we kept our bright, red bellies to remind everyone that Southwest Airlines is still that spirited Freedom Fighter — keeping airfares low so that more people can afford to fly." That red belly is now gone, and that "Warrior Spirit" is gone right along with it. They added more red to the tail, but it's just so different. One thing is for sure, it will remain recognizable.
Southwest has changed its whole business model in the last decade as CEO Gary Kelley took the reigns from the beloved and charismatic Kelleher. Financially, the results have been favorable. On the backs of fuel hedges and the most productive workforce in the industry, Southwest managed to avoid bankruptcy while its competitors wrote off their debts and slashed the salaries and morale of their own. The company has moved away from its methodology of short hop, point to point flights, and has established hubs in several cities including Baltimore, Chicago, Phoenix and Las Vegas. It once avoided fortress hub cities dominated by other airlines, and began flying to Denver, New York's LaGuardia, Newark, Washington Dulles and Reagan, Philadelphia, Pittsburgh and San Francisco. It bought AirTran Airways in 2010, adding its Atlanta and its first international destinations to its route map. It added the 737-800 to its fleet, creating the option for long-haul flights to Hawaii, Alaska and South America. Europe is within range from the east coast.
Nobody is expecting this change to bring Southwest down, but by the ghost of Orville Wright, if it isn't odd-looking. I'm also expecting Southwest to install updated interiors in these planes. Hopefully they'll rectify the glaring omission with their 2012 interior update, called "Evolve," and install some power outlets at each row of seats. Southwest wants to market themselves to business travelers, yet business travelers can't arrive with a fully-charged smartphone or laptop if they fly the airline. On Monday, Flight Club will provide a follow-up with images and anything else of interest that Southwest says. What do you think of this big change for Southwest?
Top image was posted to Twitter by @PlaneBusiness