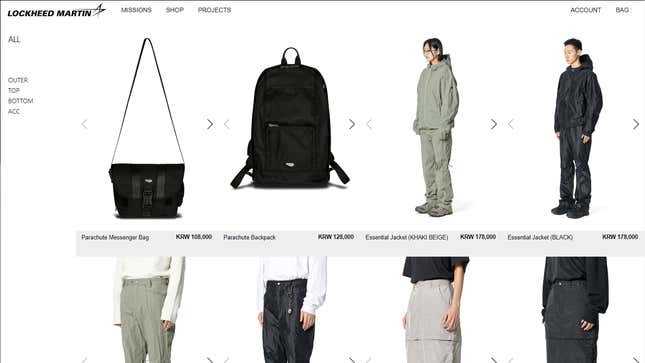 If you've set foot online over the past couple weeks, you may have seen the internet's new favorite fashion brand: Lockheed Martin. Yes, that Lockheed Martin, the one that has to talk about war crimes in its SEC filings, is now what the best-dressed people in South Korea are repping on their hiking pants, hoodies, and trucker jackets. For a mere 100-ish dollars (depending on the item), you too could deck yourself out in techwear from the same company that makes the F35 — and the clothes might even work! At least, they can't be put together worse than the jet is.
But while the clothing may bear Lockheed logos and Lockheed jets, it isn't really made by Lockheed Martin. It comes from a company called Doojin Yanghang in South Korea, which licensed the Lockheed name and imagery in hopes of competing with streetwear from CNN and Yale. In short, the South Korean fashion market is wild, and I love it.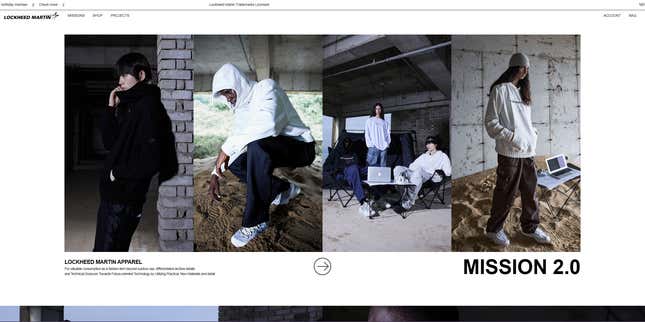 Doojin Yanghang began the collaboration back in May, according to South Korean outlet Apparel News (translated via Google). The company was already in the fashion business, manufacturing Guess jeans, but seems to have wanted to play in the "Korean fashion brands using logos that have absolutely no relation to anything" fad. Like I said: The South Korean fashion market rules.

The Lockheed/Doojin collab itself isn't just a few logos slapped on some Hanes Beefy Tees, either — the jackets, shirts, pants, and bags are all solid techwear or gorpcore offerings. If you need approximately one million pockets to carry all your little snacks on a day hike, Lockheed Martin has you covered. It's a much easier solution to develop than STOVL, as it turns out.
If you need some solid fall apparel, Lockheed Martin may — incredibly — be the spot for you. Just hope that your order ships on an Airbus instead. That way, it might actually get to you.