If you consider the massive amount of data Google has gathered on the world around you, it might be surprising—maybe reassuring?—to learn the company can't track down something as simple as a trailer. But that's indeed the case: Since January, Michigan police have been trying to locate a car hauler stolen from Waymo, the company's self-driving car unit, and have so far come up dry.
The situation dated to a weekend in late January, when a Waymo employee discovered that a 24-foot trailer designed to haul the company's vehicles around had gone missing from its office in the City of Novi, Michigan. (Waymo opened a self-driving technology development center in the city in 2016.)
On Jan. 29, Officer James Brandon of the Novi police department responded to Waymo's office over reports of stolen "enclosed car hauler trailer."
In a police report obtained by Jalopnik under a Freedom of Information Act request, Brandon said he spoke to a Waymo vehicle engineering workshop manager who said he last saw the trailer a few days prior in the parking lot on the west side of the building. The manager, whose name is redacted in the report, said he arrived to work Jan. 29 around 7 a.m. and discovered it was missing.
G/O Media may get a commission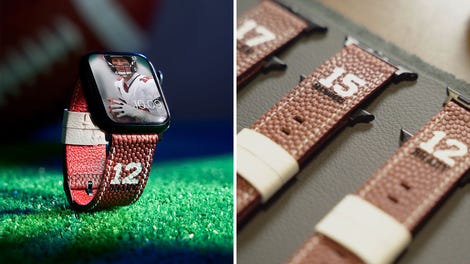 Official NFL PRODUCTS
Official NFL Apple Watch Bands
"The trailer was a 24' long American Hauler enclosed trailer outfitted for car hauling with a winch and tie down straps," Brandon wrote in the report. "[The manager] said the trailer was custom ordered for their tall vehicles."
The employee told police that CCTV footage existed of the parking lot, and provided paperwork on the vehicle, a nearly 11-foot tall trailer that has no Waymo markings. No proprietary information or cars were in the trailer at the time.
Brown said the trailer was entered into the LEIN database as stolen, and reported no suspects were known at the time.
A day later, Brown's colleague, officer Jeff Brown, said he contacted the Waymo employee who "advised that he had checked with security and there was no video available where the trailer was located."
"He did advise that there was video of a Black Pick Up truck seen on the entrance camera, entering and then leaving with the trailer 5 minutes later," Brown wrote. "The trailer is entered into LEIN as stolen. I sent and request to google for the video."
To date, the trailer's a ghost; police have yet to find a suspect. Brown didn't respond to requests for comment. Waymo declined to comment.
Don't shed a tear too quickly for Waymo. For context, Google and Waymo's parent company, Alphabet, reported $100 billion in revenue last year. But while people try to solve who's stealing bicycles that Google provides to company's employees at its California headquarters, there's now another question to ask: Who stole the Waymo trailer?