A Jalopnik reader from Long Island just bought a 4,400 mile Jeep Cherokee from an older owner in Queens in what is perhaps the greatest Jeep XJ barn find of our time. Prepare your feeble minds for photos of a factory-fresh Jeep Cherokee.
After his mom crashed her Subaru, John Sharkey from Long Island went on a quest to find her a Cherokee for winter duty. After a short search, he came across a clean, white, 2000 Jeep Cherokee on a Jeep For Sale/Trade Facebook page.
John and his buddies drove to the seller's house in Glendale and immediately had their minds blown when they lifted the car cover. Not only did the XJ somehow have only 4,400 miles on the odometer, but it still had original instruction stickers for various features (like the folding seats and floor jack), the original tires, an original cargo cover, and an absolutely mint interior. Oh, and there wasn't a spec of rust. Anywhere.
Aside from a thick coat of dust, John says the Jeep looked brand new. And judging by his pictures of the Jeep post-cleaning, he's not lying.
G/O Media may get a commission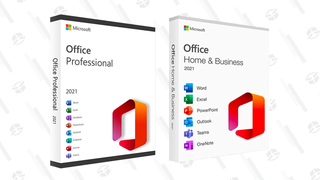 95% off
Cyber Monday - Lowest Price Ever - Microsoft Office Lifetime License
According to John, the woman in Queens was selling a number of cars that her late husband—who had passed away sometime around 2010—used to own, and which were now just sitting in a garage wasting away. John told me over the phone that the woman was likely around 70-years-old and probably had never owned a computer in her life; it was her middle aged neighbor who had posted the Jeep on the Facebook page to help the widow with the sale.

The other cars for sale in the garage included: a 1968 Chevy Camaro, a 1972 Plymouth Duster, a 1997 Pontiac Bonneville SEEi and some sort of 1971 Pontiac. They were all in fairly decent shape minus the '71 Pontiac (which was a bit rough), and because of their age, their rarity, or just the fact that perhaps the woman's husband had driven them quite a bit, these other cars commanded ridiculously high prices.
The Jeep Cherokee, however, wasn't quite as sentimental, and was therefore dirt cheap. John didn't tell me how much he paid, but he says he "paid a lot for a Jeep Cherokee," which is code for "I paid more than 800 bucks, a half-eaten stick of gum and a bottle of SoCo." The Jeep, John said, was probably just the couple's winter vehicle that they had out of necessity and rarely drove. And because the woman walked everywhere, the Jeep was likely just forgotten in the back of the collection. She just wanted it gone.
John scored a true time capsule; this thing gives Jeep XJ owners a solid idea of how the vehicle came from the factory nearly two decades ago. There's no wear on the steering wheel or pedals, the tires (including the spare) are factory fresh, the steel wheels have zero rust, the radio still has its protective plastic, the injector harness still has tags on it, and the floor jack/lug nut wrench are in their original locations. John says "It's literally a new car...It still smells like new car."
God, just look at this perfect interior:
Looking at the Carfax, the Jeep looks legit. It was purchased new in November of 2000, got into a little fender bender after only a week of ownership (John says the damage was likely just a rear plastic trim piece that has since been replaced), had its oil changed in 2001, and was inspected and had its registration renewed all the way until 2012.
After 2012, there's nothing on record; John says the Jeep sat from 2012 onwards. Looking at the odometer readings over the years, it looks like the Jeep sat pretty much all the time.
John's mom, who knows a thing or two about Jeeps, realizes that this XJ is too nice to beat on in the rough snowy roads of New York, so she wants something different. John's plan is to sell the XJ. His asking price? $15,000. And while that sounds like a shit-ton for a Jeep Cherokee, this thing is more than just a barn find.
Finding an old car that's rarely been driven is awesome, but what's even more awesome is when that car has a reputation for going over 300,000 miles on the stock powertrain. Then the car goes from just a barn find, to something that, with a couple of new seals you could easily daily-drive for the next 20 years.
Does that make it worth 15 large? I myself don't really see tons of value in a car having low miles and only a single owner, but just look at the shape of this thing. We'll see what happens when John puts this highly desirable XJ (a 2000 with a 4.0 and an NP 242 transfer case is a great setup for an XJ) up for sale in the next couple of weeks. I'll bet someone will snag it.
Some more photos of the barn find XJ: