This is The Morning Shift, our one-stop daily roundup of all the auto news that's actually important — all in one place at 9:00 AM. Or, you could spend all day waiting for other sites to parse it out to you one story at a time. Isn't your time more important?
1st Gear: Feel Better About Driving An Inflatable Car
As an editor of a Gawker Media site I can attest that no technology is immediately perfect, and Volvo's auto braking system failed spectacularly when it was first being developed. However, over time, we've seen these systems improve.
Which one is the best? According to the Insurance Institute For Highway Safety it's Subaru's "EyeSight" system, which uses a suite of cameras and sensors to cause a full auto brake and entirely avoids crushing an oncoming car as well as letting the driver know.
G/O Media may get a commission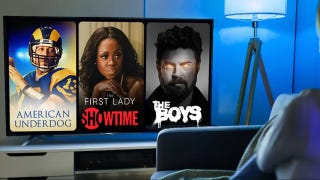 UNDER $1
99¢ Prime Video Channels
Second to that is the Cadillac's autobrake/autowarning system, Volvo's City Safety setup, and Mercedes' Distronic Plus/Pre-Safe Brake.
While this is yet another example of nanny state technology leaking into mainstream vehicles, these aren't exactly being pushed on 911s yet. Given that these are mostly mid-size luxury cars and SUVs driven by people who might be texting-and-driving and the systems are defeatable, it's not that bad.
I'm also fine with sensors that warn you in almost any car. While you should be paying attention, none of us are perfect drivers 100% of the time.
2nd Gear: Chrysler Maybe Has A Fix For Tranny Problems
Chrysler's 2014 Jeep Cherokee transmission issue that they sort of tried to admit they weren't having has apparently been fixed and now, reports the WSJ, they can apply the new software to the 10,000 or so vehicles they've already built.
They apparently want to get the cars right before they ship them to dealers who are anxious to get into the small CUV/SUV market.
The new vehicles should ship in the 4th quarter.
3rd Gear: Rumors Of Mulally's Departure Aren't At All Distracting, That's Silly, Why Would You Ask?
Alan Mulally didn't know anything about planes knew a lot about planes and he made Boeing awesome. Hee didn't know anything about cars, but he made Ford awesome. Based on this pattern, some people think that he'll be tapped to takeover Microsoft from Steve Ballmer.
Rumors like this are common when you've got a successful CEO like the Kissing Bandit, but since it came from Kara Swisher we have to listen. She has fantastic sources.
So, is it causing a distraction in Dearborn? Per Karl Henkel, it is not.
Fields, 52, said Mulally still attends weekly executive meetings "pretty regularly," though he said Mulally is focused more on the company's "long-range strategy."
4th Gear: Jim Lentz Bums Us Out With The Truth
The auto industry is going to have a fantastic year. Everyone is buying a new car, incentives on most cars aren't crazy, and it's getting easier to get loans for car buyers.
Will this last forever? Nope. Captain Bummer (a.k.a. Toyota's Jim Lentz) tells the AP what I think this probably the cold, hard truth about the industry.
"The market then has to work off a much better economy, an improving economy," Lentz said. "If we don't have that, I think the market may flatten out."
Eat those breadsticks, people.
Whether this is going to be next year or 2015/2016 is up for debate, but it's a real possibility if we don't get wage/job growth up in the next 18 months.
5th Gear: RidePal Is The New Uber Is The New Lyft
Owning a car in San Francisco is expensive and annoying for most people, yet many of the people who live in SF have jobs south of the city in Mountain View or wherever.
Thus, corporate shuttle service RidePal is getting that sweet sweet Venture Capital to help shuttle people around.
Of course, they don't even own all their vehicles, but apparently get busses from other companies. So what, exactly, is their business?
It looks like they've just developed a smart website/system to place on top of an already existing business.
Reverse: So That's Why The French Hate Us
On this day in 1967, a French television network begins to broadcast the first (and only) season of the American sitcom "My Mother, The Car," the first TV show to star a talking automobile. The show's premise—a man visits a used-car lot and finds a 1928 Porter convertible that is, somehow, the reincarnation of his dead mother—was fairly ludicrous; perhaps as a result, it only survived for one season (1965–66) in the United States. In 2002, TV Guide named "My Mother, The Car" the second-worst television show of all time. (First on the list was The Jerry Springer Show.)
[HISTORY]
Neutral: Crash Avoidance Systems Hate? Love? Indifferent?
Photo Credit: Getty Images