Even when even vintage milk can be bought online, you might as well try and lock down a good Cyber Monday deal on a car. And while a few dealerships have made the effort to make buying a used car online easy, far too many still have inaccurate listings or are generally uncooperative.

Shopping online for a used car is inherently more complicated than shopping for a new model. When you know which new car you want, you are basically just comparing prices, not products. But on a pre-owned car there are multiple factors to consider like the year, trim, miles, warranty balance and overall condition. The key to finding the best deal on a pre-owned car is not to focus on how much you save off the asking price, but rather what the best overall value is on the market. In order to make this evaluation, you need to have as much info as possible.
I just recently noticed on a few different hunts for pre-owned cars that some dealerships are utilizing comprehensive digital "packets" to help streamline the process. When I was shopping for a used Volkswagen Golf Sportwagen for a customer in Texas, I came across a Mercedes dealer with a listing that looked pretty good. This particular dealer was using a tool called AutoiPacket to display information on this car.
G/O Media may get a commission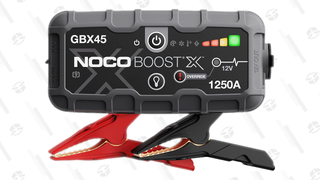 13% Off
Noco Boost X GBX75 Jump Starter
Now, I'm not easily impressed when it comes to dealer websites, but this made my day. There was an easy link to a CarFax report, which was great because who doesn't hate wasting time to request info from a dealer when they can make the report just a click away. Most places will link to a CarFax or similar history report, as this dealer did, but it's the other two documents found on the AutoiPacket that really made this special.

First up was the section that reads "MSRP." It linked to the original window sticker of this car—a super-rare tidbit to find on a used car being sold by a dealership of a different brand.
This allowed me to see all of the installed options and packages. It also let me compare the original MSRP to the current sale price in order to help determine that all-important value analysis. Not only could I see a window sticker, but some dealers who use AutoiPackets even link to a "service history" that details all of the records they have access to. Now a used car buyer can see that the maintenance was up to date and any recent upgrades, like new tires or brakes.
But one of my favorite things about this digital packet system is that, once your email address is in the dealer's database, you will automatically get alerted when the price drops. I know many buyers who will find this feature quite the time saver, as it eliminates the need to constantly monitor for price adjustments.
A good salesperson doesn't want to drag someone into the showroom only to find out the car isn't what the customer wants, and a buyer would rather save a phone call and a trip to the dealership if they can get the information they need with a few clicks.

More dealerships should take notice of technology that gets as much information as possible about your used inventory to potential buyers. Withholding such info is a good way to annoy, and possibly scare off, serious customers.