Speaking of Ayrton Senna, look how Japan's elite sports cars have grown over the years, with Nissan's modern GT-R towering over the Honda NSX which Senna helped develop.
The NSX, launched in 1990, was remarkable for its low roofline of only 46": a bare six inches taller than the Ford GT40 race car. The GT–R, on the other hand, is a full eight inches taller than the NSX.
Under the aluminum, the difference is even bigger. The GT–R is 850 pounds heavier than the NSX, which weighs in at 2,950 lb: an increase of 22 percent. There is, of course, an even greater increase in power, with the Nissan's twin-turbo V6 producing almost twice the horsepower of the Honda's V6 VTEC, with a resulting climb in power to weight from 216 bhp/ton to 277 bhp/ton.
But while the NSX our Wes Siler reviewed for Jalopnik is the balls-out Spoon version with 420 HP, his words about lightness and simplicity are probably true of the original as well:
[The] NSX-R GT doesn't just feel as good as I expected, but better than I could ever have hoped. Unlike other classic super cars, the passing of time has been kind to the NSX. It suffers from neither high weight nor over complication of modern super cars, but adapts their up-to-date running gear, brakes and tires to give itself modern performance.
G/O Media may get a commission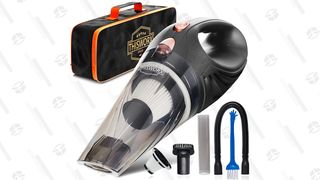 Save 50%
ThisWorx Car Vacuum Cleaner
The trend is much the same with sporty roadsters. Witness the 1964 Honda S600 versus the 1999 Honda S2000:
Relentless growth in size is not limited to the Japanese car industry. If you were to compare Ferrari's entry-level car from 1968 to its successor 31 years on, this is what you'd see:
The rather lithe and low Ferrari 360 Modena is practically a battleship when compared to the little Dino 246 GT.
And so on.
Photo Credit: Honda fórum (NSX's and GT–R), VWvortex Forums (Honda S600 and S2000) and the author (Ferraris)