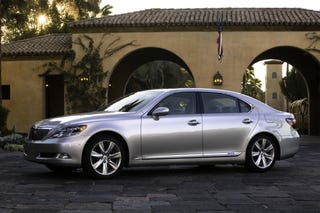 We knew it was coming, but the question was a matter of figures — five or six. But it's official, the Lexus LS600h flagship is a half-dozen figures, at an MSRP of $104,000. Toyota's selling the hybrid-drive system in terms of its efficient power boosting. Just as the hybrid GS430h L uses its e-motors to get the power of an eight-cylinder engine from a six, the LS600h L similarly gets the power delivery of a 12-cylinder from a six, the story goes. That is, 430 horsepower with combined fuel-economy ratings, the company notes in a press release, "of V6 all-wheel-drive mid-sized luxury sedans." No hard numbers yet, but we'd imagine we'll see a lot of these humming along silently in traffic on the 405 in Los Angeles. Perhaps on the way to be parked alongside a Gulfstream V.
Press Release:
April 6, 2007 - Torrance, CA - Lexus today announced the manufacturer's suggested retail price (MSRP) for the all-new 2008 LS 600h L luxury hybrid sedan. The LS 600h L will be the ultimate Lexus statement, providing the highest level of luxury, technology, performance, safety and efficiency.
With an extensive list of standard luxury equipment and technological features, including the world's first full hybrid V8 powertrain, the LS 600h L will carry a base MSRP of $104,000 when it reaches Lexus dealers in June.
The full-time all-wheel-drive LS 600h L will be the world's first vehicle powered by a full hybrid V8 powertrain and will be mated to a newly developed dual-stage electronically controlled, continuously variable transmission. It will deliver power and performance on a par with modern 12-cylinder engines, producing more than 430 horsepower while still delivering fuel efficiency equal to or better than the combined fuel-economy ratings of V6 all-wheel-drive mid-sized luxury sedans. The LS 600h L will also carry a Super Ultra Low Emission Vehicle (SULEV) rating, emitting nearly 70 percent fewer emissions than the "cleanest" of its competitors.

Related:
Lexus LS 600h Flagship Coming to New York [internal]