A Canadian guy named Joe has been digging out the basement of his house using nothing but radio-controlled scale model construction equipment... since 1997. Yes, you read that right — he's been digging out his basement for 15 years — with nothing but little R/C tractors, diggers and even a miniature rock crusher! Amazing.
At an average rate of eight or nine cubic feet of earth moved each year, the process has been absolutely glacial. But what do you expect when every morning he drives his little excavator on its transport truck down to the basement, unloads it, and then uses it to dig out the basement walls.
Then Joe uses the excavators to load R/C trucks and they work their way up a spiral ramp to the basement window where the soil gets dumped outside.
Then, once it's outside, he uses bulldozers to consolidate the pile of excavated dirt.
So why does he do it? Good question. No idea. CarScoop noted Joe as saying:
"I feel quite fortunate to have stumbled onto this basement excavation idea, it's been a great past time to date dreaming up new ideas to tackle different projects along the way," Joe wrote on the Scale4x4rc forums where he also posted pictures and videos of his feat.

"It's been a great hobby thus far, dreaming up - building all sorts of different minature equipment from kits or from scratch for this "mining" project. If it wasn't for this mining project I probably would have lost of interest in this hobby by now b/c once the models are built - the novelty of how they work & perform would wear off with no task to be accomplished them," he notes in another post.
G/O Media may get a commission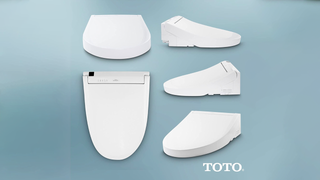 44% off
Toto Washlet Electronic Bidet Toilet Seat
I can't believe this is the first we've heard about Joe and his amazing little excavators — especially considering there's an amazing 53-page thread about him over at the scale4x4rc.org forums.
OK, so maybe I can see why I might have missed it. Still — this is amazing.
You can spend the next four hours wading through the 53 pages on the forum — but when you get bored, take a walk through the best videos of the epic process in the gallery to the left.