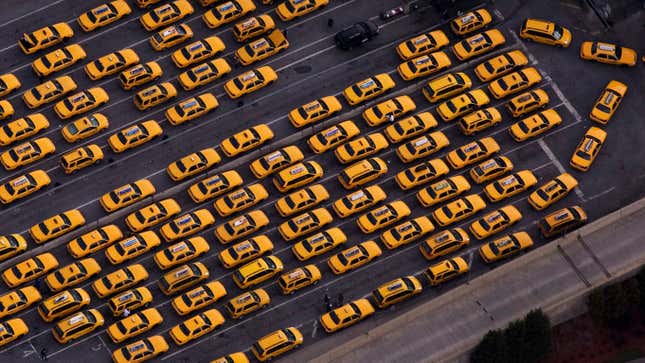 Lyft is testing out a daring new feature the company hopes will make airport pickups easier. It's called a line.
You may be familiar with this significant innovation in human organization from your previous experiences at stores, movie theaters, concerts, and assorted other facilities. In fact, you may even be familiar with the concept of the line from the several hours you spent in airports prior to needing to be driven from the airport.

Here's how Lyft described the new "feature," which will be piloted in San Diego starting in May, in a company blog post published on Monday:
Instead of searching for your driver at often-hectic pickup areas, we'll direct you to a clearly-marked Lyft pickup area, located at Terminal 2. You'll join a designated line (with other Lyft passengers) and show a unique four-digit code to the next available driver.

...


When you get to the front of the line, show your code to the driver. Once you're matched, hop in, and be on your merry way.

So the only difference between a taxi line and this Lyft line—which we can't call a Lyft Line because that's the brand name for their shared ride service, which itself is not to be confused with the term "rideshare" because that doesn't actually mean sharing your ride with anyone except the driver, which is called a taxi—is that instead of telling the driver your destination, you tell them a four-digit code, which they type into their phone to learn your destination.

Don't worry, if this newfangled concept of a line confuses you, Lyft is prepared to have someone available to help:
We understand that this is a different way to request airport rides, so Lyft ambassadors will be at Terminal 2 to assist you.
This is not the first time Lyft has debuted a a new "feature" that's simply a pink logo'd re-branding of generations-old methods. One can hardly forget the time Lyft invented the bus.
In the wake of the Lyft and Uber IPO filings, which provide unprecedented windows into the rideshare giants' businesses, some have had a sneaking suspicion that the best case scenario for these companies—notwithstanding the increasingly unlikely event they can replace all drivers with computers—is to undercut existing transportation options by paying workers less and predatory pricing models, then adjust their pricing towards profitability once they have monopoly power.
Regardless of whether that's what Uber and Lyft are up to, pulling tricks like "here's an idea: line up for a taxi at the airport" (which, to be clear, is almost certainly going to work better than a giant scrum of cars in the four-lane access road by the terminal, which is a bad idea no one thought through) leaves me with angst that all of this "disruption" is going to result in a gradual retrenchment process where everyone realizes things used to be the way they were for a reason.

This isn't so consequential when it comes to things like lining up for rides at the airport again, but will result in full-blown battles over instituting the same regulatory oversight that used to exist for businesses that picked you up and drove you places.
Which is to say, try the taxi line at the airport. It's almost always faster and the drivers can actually earn a living.