Yesterday I spent the day out with my wife, doing our normal day-off stuff. We went to see a movie, stopped at a few garage sales, and went to a few of our favorite thrift and vintage stores. She's always on the look out for things with a practical use, but my eyes are always scanning the shelves for more car-related paraphernalia that I don't actually need. There's a wide disparity between needing and wanting.
The Ford Taurus Is Reborn — But Only For the Middle East
One of my favorite vintage stores, actually a so-called Antique Mall with multiple vendors filling small booths with their old trinkets, has one particular booth that is always an automotive gold mine. The guy that stocks this booth is a fanatic for vintage motorsport, and always has some cool old posters and photography from the early days of speedway racing and Bonneville. Just yesterday I found an original matched set of Hallibrand wheel center-lug knockoffs. I'm still contemplating driving back there to buy them, regardless of my level of need hovering around absolute zero.
The one that takes the cake, however, is this mini jet engine that was allegedly used as the starter for a turbine-powered Bonneville racer. At the time it was out of my price range for a completely useless trinket, but it haunts my dreams nearly every night.
G/O Media may get a commission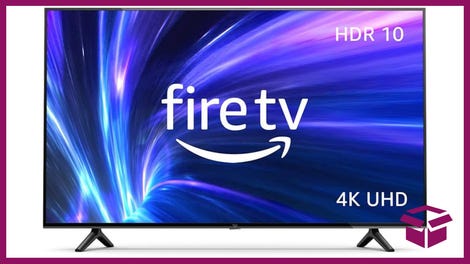 42% Off
Amazon Fire TV 50" 4K Smart TV
At that same store, but in other booths, I found a poster for the inaugural race at Ontario Speedway, a set of patches from Riverside Raceway, a corner worker jacket from Freeport Speedway in upstate New York (I haven't a clue how that got to Reno, Nevada,) and a stack of original Studebaker dealership brochures in minty condition.
The best thrift find, however, belongs to my wife. She found this Monterey Historics poster sitting among the stacks at a Savers for $12. Even with the cracked glass and 80s-tastic gold frame, it's now hanging proudly in my garage.
So, what kinds of cool car-related things have you seen, wanted, or purchased in your time searching through the shelves of a local thrift? We want to see them.