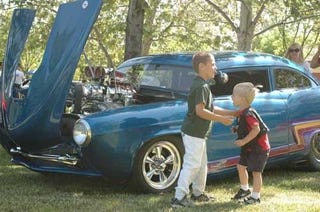 As a car guy, there is nothing more relaxing that walking through a park and watching other car guys polish endlessly to keep their cars shiny while eager children feel the need to touch everything.
There is a certain calm to just cruising around a car show and enjoying the sights of everyone else's labor. If you have ever entered a car into a show to compete then you know that car shows are a ton of work. You will wash, wax and repeat until your fingers bleed. And no matter how much you prepare, the judges will always find a little something to knock down your score.
One method to avoid all of that endless polishing is to go with the flat black like on this slammed Caddy.
If your car has some vintage racing history, the judges will sometimes look past a few paint chips on the front of your car.
And some race cars don't have a single blemish on them, which means the fastest they have gone lately is when they rolled down the car trailer ramps.
This Austin Cooper S was one of the cleanest Minis I have seen in a long time. The judges agreed and gave it high marks.
It appropriately had the "Self Preservation Society" sticker on the back in reference to the song from the original The Italian Job film –still one of the best chase scenes ever.
This Mercedes is nothing of the sort. It is actually a tube chassis with a GM crate motor wrapped in some silver painted fiberglass.
Dave Wolin, an established race car driver, built this gull-winged wonder in his shop during his newfound spare time now that he is retired. Well, I shouldn't say he is completely retired since he still finds time to run hillclimbs. There are some great photos of him drifting around some corners at an Oregon HillClimb here.
And last but not least, with all of these different vintage race machines sitting around the Sunday afternoon car show, it wouldn't be right if we didn't have on old school Highway Po-Po car as well.