Ah, the myriad joys of a vintage car: the feel of the wheel wriggling in your hands, the sound of the engine as you blip the throttle. Now Siemens is looking to remove all of that with a self-driving 1965 Ford Mustang that it plans to run up the famous Goodwood Hillclimb this year.
The Ford Taurus Is Reborn — But Only For the Middle East
The project is actually a partnership between Siemens and Cranfield University, as the Evening Express reports, outfitting the classic with a "full suite of sensors and control algorithms" to make it up the hill with no human input.

G/O Media may get a commission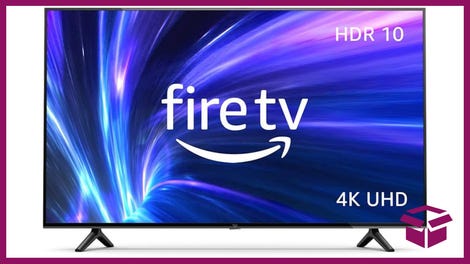 42% Off
Amazon Fire TV 50" 4K Smart TV
But this is not exactly a super-Tesla or anything. First of, all, the Mustang is keeping its V8 and will still be able to be driven by a human, if you so desire. Second of all, the car will not be figuring the whole course out as it goes. The car will already have a map of where it needs to go, as Motoring Research explains:

Equipping an achingly cool 1965 Mustang with autonomous tech is very 'Goodwood', although it's not been the work of the moment for the Siemens engineers. A particular challenge, they say, has been honing the sensitivity of the handling control to navigate the course.

The teams thus developed a precise 3D scan of the hill using location-scanning technology from Bentley Systems, for 'connected awareness of the car's own position'.

So this is more of a retrofit of getting an old car to drive itself around a pre-described route than it is making a whole new robot-car. That's fine. It's still not easy, I'm sure. RoboRace will be competing up the hill this year, too, so that covers that side of things.
And honestly, I don't even mind that this project is happening. Cut up a '65 Mustang all you want. You can probably make an all-new one using reproduction parts, and they were never rare to begin with, nor was rarity ever part of its charm. If anything, this project gives me a little hope that classics may find a way to integrate into a self-driving future. After all, who cares about crash structures when cars don't crash?