GREATER NOIDA, Uttar Pradesh, India – With three races left of a 19-round 2013 Formula One season, Infiniti Red Bull Racing have sealed the double, becoming consecutive four-time Constructors' World Champions and claiming the Drivers' World Championship crown at the hands of Sebastian Vettel, who becomes the youngest consecutive four-time winner in the sport's history.
"To join people like Prost, Fangio and Michael is unbelievable," said Vettel. "I think this is one of the best days in my life so far. There are so many that I have to thank but one of them is Infiniti. Infiniti's increased involvement this year has helped support my efforts too, so I'm glad I can reward them with another World Championship. It's been a busy year for me, developing Infiniti's road cars, and as our relationship is continuing to grow this is a key moment I'm glad we can all share."
Sebastian Vettel and Infiniti Red Bull Racing have dominated much of the 2013 season, scoring ten Grand Prix victories and 18 podium finishes to wrap up both titles with three Grands Prix remaining this season.
"Sebastian and Infiniti Red Bull Racing both represent perfectly our brand's vision of performance, precision, passion and provocation," commented Johan de Nysschen, President of Infiniti Motor Company, Ltd. "It is these traits that led to us deepening our partnership with them at the beginning of the year and we are proud to have played a major role in their incredible season."
G/O Media may get a commission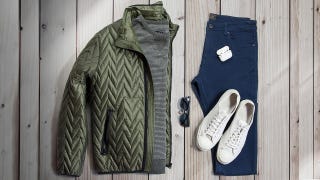 60% off
Jachs NY Fall Sale 60% Off
"In our first year with Infiniti as title partner there's been a great deal of work put in on and off-track to identify the areas where we can learn from each other and bring benefit to both parties," said Christian Horner, Infiniti Red Bull Racing Team Principal. "I'm exceptionally pleased that we can both share in this success."
Infiniti deepened its partnership with the team at the start of the season, becoming Title and Vehicle Performance Partner of the renamed Infiniti Red Bull Racing. Collaborating ever-more closely across people, process and technology, the relationship has seen the Formula One team adopt areas such as materials technology from Infiniti, which in turn benefitted from the team's and Sebastian Vettel's input into vehicles such as the FX Vettel Edition and the new Infiniti Q50.
de Nysschen continued: "So far this year, Sebastian has had direct and invaluable input into the development of the Q50 and the new Q30. As the 2014 Formula One season brings new technical challenges, we look forward to working with Sebastian as Infiniti's Director of Performance and Infiniti Red Bull Racing in pursuit of automotive excellence on the road and the track."
Car 1 SEBASTIAN VETTEL, Finish Position: WINNER, Start Position: 1st
"First of all I would love to say thank you to the crowds, it was an unbelievable reception today and it's a shame we are not racing here next year. I'm speechless. I crossed the line and I was empty. I took ages to think about something to say. It's one of these moments where you want to say so many things but you can't. It's been such a phenomenal season. I think the team and the spirit inside the team is so strong; I said it on the radio already – it gives me so much power. It's a pleasure to jump in the car and go out for the guys and girls and try to give it all I have. The car was fantastic today. I didn't think about the do-nuts before the race today – it just happened. My engineer directed for the usual procedure, but I said 'not this time!' There are so many people on the main grandstand here, I just had to do it. I want to say a big thank you to the team to all the people behind us. It was for sure not an easy season and even though people on the outside thought we had it in our hands, I think it was difficult. It a was tough season for me personally, to receive boos even though we haven't done anything wrong; to overcome that and give the right answer on the track and get acceptance makes me very proud. To join people like Prost, Fangio and Michael is unbelievable. I think this is one of the best days in my life so far. There are so many people that I have to thank; I've always tried to listen and learn and it's incredible to race some of the best drivers in the world."
Car 2 MARK WEBBER, Finish Position: DNF, Start Position: 2nd
"Obviously I'm pretty disappointed with today's race, but there is not much I can do. The alternator went wrong with very short notice so we had to stop straight away. It's tough because we did a lot of things right this weekend, but I've got a smile on my face as I could not have done any more. Well done to Seb on his Championship and also to all the Team; to get a fourth title is amazing. It's been a great job by the whole team to achieve the title four years on the trot and it has once again set itself as the benchmark for the others."
CHRISTIAN HORNER, Team Principal
"To achieve four double World Championships is the culmination of an enormous amount of dedication and commitment from the whole team. For Sebastian to have joined the illustrious names of Fangio, Prost and Schumacher is an incredible achievement, especially at such a young age and it's a privilege to work with him. It's an enormous day for the Team to have won its fourth consecutive Constructors' World Championship. Without the dedication and determination of all the staff from all of the departments throughout the company and from all of our Partners and the backing of Dietrich Mateschitz and support of Red Bull, none of this would be possible. There's going to be an awfully lot of happy people in Milton Keynes and Salzburg this evening. We've got three races to go and we're just going to go for it. The most disappointing thing today was obviously the failure on Mark's car when we were set for a 1-2 finish; we had a sudden alternator failure, but sometimes that's racing. It was just desperately disappointing to happen while we were on course to achieve a 1-2 finish. I think it's going to take quite a few days for this success to sink in and it's important for the Team to enjoy the moment – we will be pushing all the way to the checkered flag in Brazil."
ADRIAN NEWEY, Chief Technical Officer
"It's difficult to verbalize what these Championships mean to be honest. Coming into the weekend we knew we had a good chance for both titles, but it's one thing thinking you have a good chance and quite another to achieve it. It's almost a relief that we've done it, it's going to take a while to sink in. It's a tribute to all the hard work, talent and focus of the guys and girls back in Milton Keynes. We started off with a very good season in 2009, against all expectations, and to have built on that with four consecutive doubles is absolutely stunning. More than anything I'd like to thank every single member of the team for that. Sebastian must now be considered one of the all-time greats. He makes mistakes sometimes, but he always learns from them; he's very humble and the success and fame he has achieved over the last few years has never gone to his head; he remains with both feet firmly on the ground. The atmosphere we have in the team is very good; we're just a straight forward team and we don't pretend to be anything we're not. These four Championships are a result of all the hard work, creativity and enthusiasm of everyone in Milton Keynes."
THIERRY SALVI, Renault
"Seb showed his capacity to be very, very quick yet again and to come back to the front despite a very early pitstop. That was a demonstration. Mark pushed very hard from the beginning and was a serious rival to Seb until his failure. A huge result for the team today, with the quadruple double finally done and dusted! It's a very proud moment for us to have contributed to these titles and to see the partnership go from strength to strength. It was not a perfect day with the alternator issue for Mark, but it doesn't have to sour the celebrations for too long."
About Infiniti in Formula One
Infiniti, the premium automotive brand, starts the 2013 season as Title Partner and Vehicle Performance Partner of Infiniti Red Bull Racing. With a deepened technical collaboration across people, process and technologies, an 'open door' approach is enabling both sides to access a pool of innovation, new technologies and R&D resources in the shared pursuit of precision and performance.
Since the partnership's inception in 2011 it has already seen the launch of the Infiniti FX Vettel Edition and product development input from Sebastian Vettel and test driver Sebastien Buemi for the all-new Infiniti Q50 premium sports saloon. Infiniti continues to be the most visible automotive brand in Formula One, and the deepened partnership will ensure closer alignment on an increasing number of future team collaborations.
Source: Infiniti