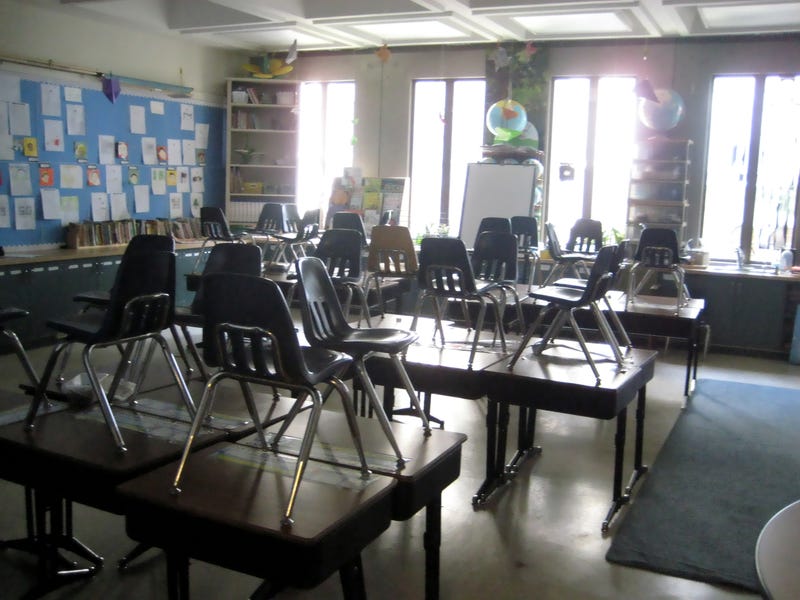 The school district in Buena Vista Township, located right outside Saginaw, has been on the national radar lately for not holding class in over a week because it has no money.
How bad is it?
MLive reports the state's department of education is withholding funding because the district spent more than $400,000 appropriated for a education program intended to tutor delinquent males that it had actually cancelled.
So, in an effort to get back the money it lost, that's the decision the state took — holding back funds for April, May and June — which is effectively sending the 400 or so students in the district on summer vacation a month ahead of schedule.
The district's Board of Education voted Monday to cut benefits to all employees and laid off all 27 teachers employed, MLive reports. It's also managed to accumulate a $1 million budget deficit and has a bill due in August for a state treasury loan totaling $2 million.
A number of reasons led to this. In the past three years, the district's enrollment fell from over 900 students to around 400, The Associated Press says. Education funding from the state has been cut by nearly $1 billion in recent years. There's also the question of if even makes sense to have a school district of 400 students outside of a larger city, in this instance, Saginaw, as Nancy Kaffer suggested today in the Detroit Free Press.
Here's where my train of thought derails along the line of this locomotive batshit mess: There's one more month in the school year. What's happening in Buena Vista is a nuanced situation and in such situations many people are going to offer their take on What Went Wrong. Except, at the root of it all, more than 400 kids aren't going to school right now because a group of adults are in the process of fleshing out a pissing match over how things should be fixed to keep a sound fiscal order. And by that I mean you can bet an emergency manager appointment is on the way.
How about this in the interim: The state has racked up a rainy day fund of over $500 million. Why not take a thin slice out of that pie to keep the students engaged for another month and keep the schools operating? Use the summer vacation to sort out all the bullshit and figure out a solution. Is that too crazy of a proposition, or is there some inherent principle that needs to be taught to the kids so they learn how to keep tabs on their pocketbooks that I'm unaware of?
Update: I completely missed this from earlier today. Senate Democratic Leader Gretchen Whitmer apparently spoke out today asking Governor Rick Snyder to use the rainy day fund to reopen Buena Vista Township's schools. Detroit News reports Snyder responded saying, "that's not what the rainy day fund is really intended for."
(Photo courtesy of Wikimedia Commons)