In the old days, you'd be more likely to find an ex-child actor who'd never been in rehab than a new car with more than 500hp. By old days, we of course mean 2002, back when Saleen released its S7 mid-engine exotic. Sporting more than 500hp and a near-equal torque figure, it was considered the first US-built player in an exclusive horsepower club. But the Horsepower Wars of the Mid '00s placed those figures on the lower end of carmakers' expanding engine stables. As a famed Mustang tuner and race technologies firm, could Saleen afford to get left behind?
Of course not. For 2005, the company stuck a twin-turbo setup atop the S7's 7.0-liter all-aluiminum mill, and upped the figures to 750hp, with 700ft/lbs of torque. The upgrade, of course affected the car's performance, with the 2,950lb machine now turning in zero-to-60 times of under three seconds (2.8), with a top speed of 200 mph. A redesigned diffuser/rear spoiler package help keep the newly juiced model grounded at speed. At this rate, we figure 2000hp will be the norm by next decade.
G/O Media may get a commission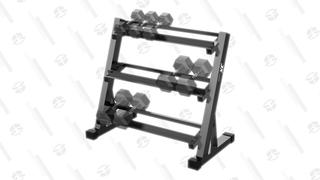 20% Off
JX Fitness Dumbbell Rack
Gains but tidy
Has a three-tier design to help store more weights more conveniently, can safely support up to 1000lbs of weight, which should be enough for most people, has a triangle base for stability, and also features anti-scratch feet which is great if you've built your own studio or workout in your garage.
Related:
Saleen Reveals New 2005 Mustang S281; Road and Track Lets the Mustangs Run [internal]