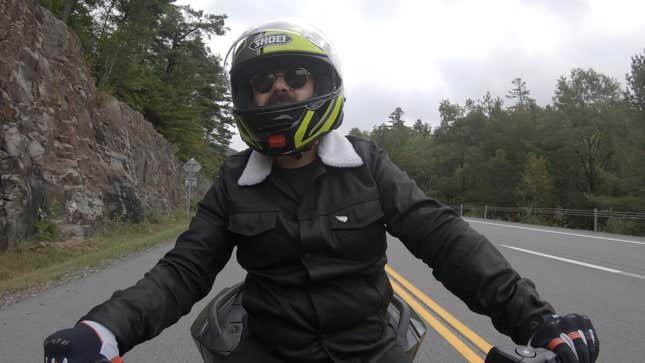 I am extremely new to riding motorcycles, but even before I knew much about the whole bike thing, I knew one thing was incredibly important: having the right gear. Obviously, I was looking for something that offered great protection, but I was also on the hunt for gear that wouldn't make me look like a total dweeb when I was off the bike, just walking around. Luckily for me, Saint, and its Unbreakable series of motorcycle riding apparel, was exactly what I was looking for.
Full Disclosure: Saint was kind enough to send me a jacket, pants, socks, compression sleeve and a set of its Ghost Armour all for me to keep. It is awfully nice of them.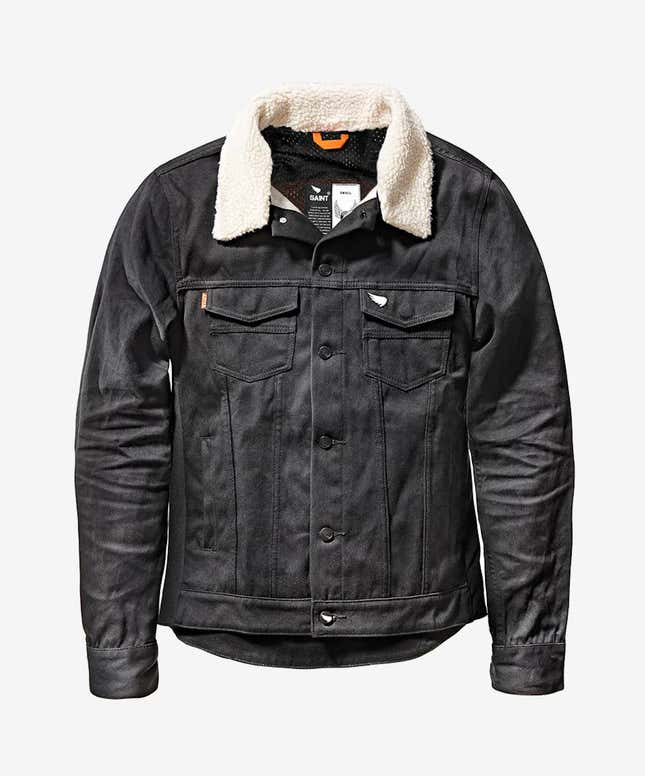 Riders like to make all sorts of excuses when it comes to why they don't abide by the cardinal rule of All Gear All The Time. You'll hear things like "It's too hot," or "I'm not gonna fall" and even the "most of it is just dorky looking." There is, of course, nothing dorky about being protected, but in some ways I get it. At our core, most folks get bikes to look cool, and doofus-like gear absolutely kills the cool factor. Well, Saint has a remedy. Both of the main pieces of gear it sent me, the Unbreakable Jacket and Engineered Straight Armored Jeans, look pretty much like any regular article of clothing. Unless you knew what Saint was, you'd probably be fooled.
Through a couple hardened miles of testing during a fairly warm Summer day in Lake George, New York, I was able to figure out if Saint's gear was really up to snuff.
How Saint Does It
Saint, an Australian brand that has been around for years, is all about making stylish clothing with a hell of a lot of protection. Specifically, it uses abrasion-resistant single-layer fabrics. Both the pants and the jacket have removable Ghost Armour for even more protection. They're super thin layers of material that can really take a beating. Even though it doesn't really look like too much, the little pads pack a lot of protection.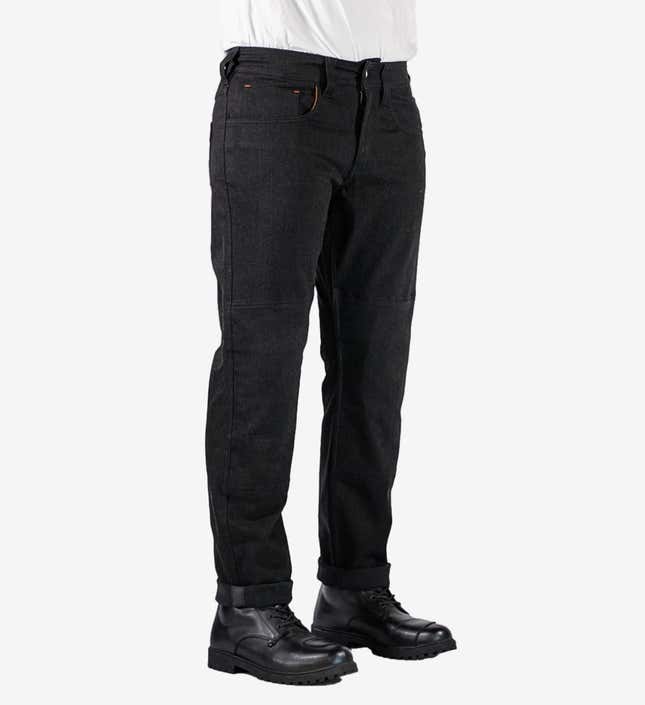 That Unbreakable fabric is now in its sixth generation, so it's clear Saint has been at this for a while. Underneath the faux denim made out of a cotton, viscose blend, and removable Polyester faux fur collar (which looks boss) is a mesh lining and pockets meant to fit that D30 Ghost Armour I mentioned earlier. That armour is really what sets Saint apart from the rest. You'll be hard pressed to find such low-profile pads anywhere else.
Even the padding built into the jeans is thin enough that not many people will even realize you're wearing motorcycle gear. However, when you're up on a bike, you still feel extremely secure that if things were to go… well… badly, you'd have more than enough protection — including hip and knee armor. If something like that is to happen, don't worry about ruining your very nice jacket and pants. They are burst and abrasion-resistant, so they should be okay as long as you don't have a particularly nasty crash.
The Comfort
Because both the jeans and jacket look like regular, non-motorcycle clothing, you'd expect them to be as comfy as normal clothes. You'd be right! I am 6'1" and weigh about 220-ish pounds, and I found that that a Large fit me nearly perfectly. It was perhaps a tiny bit snug in the tummy region, but that's more my fault than the jacket's. However, the arm length was perfect. The sleeves don't hike up when you move your shoulders and arms around to reach handlebars, and a slightly longer cut in back means you can lean forward on your hog without showing everyone your ass.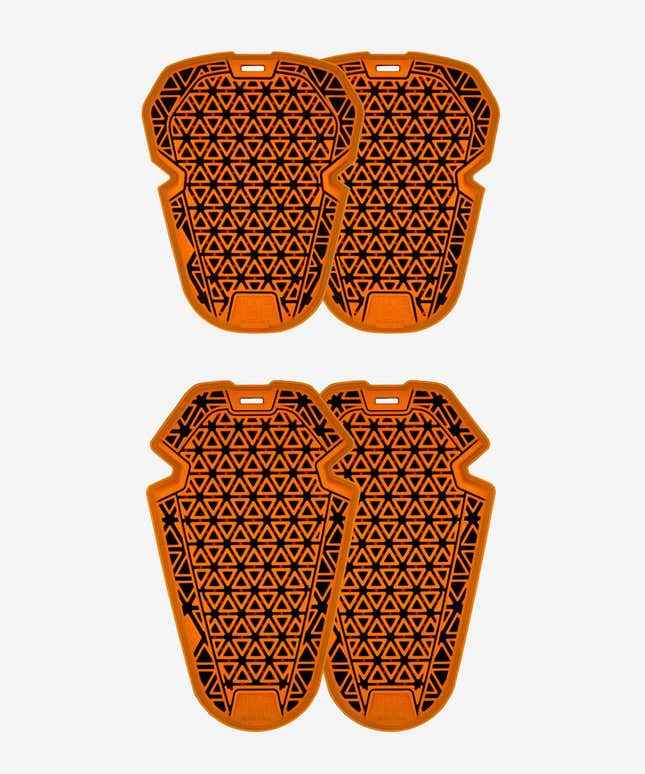 All of the fasteners, buttons and pockets feel sturdy as well. Unfortunately, my one nitpick lies with those buttons. They may look good, and you can undo them with gloves on, but I really just wanted a zipper. Maybe it's because I'm lazy, but I found myself getting toasty when hopping off the bike since I'm too much of a sloth to undo and redo all my buttons. It's a minor thing, and it would not stop me from buying the jacket.
Anyway, the jeans are also incredibly comfy. For as well-protected as they are, they feel very light. Again, all the padding does a good job of protecting you where you need to be protected without being obtrusive. I did run into a slight issue where some of the padding would fold up, but it could be remedied very quickly and easily by... putting my hand down my pants and un-scrunching the pads
Adding to the comfort are the compression socks and arm sleeve Saint supplied. Even after riding for a long time, both pieces of clothing definitely helped keep my shitty and goopy blood flowing.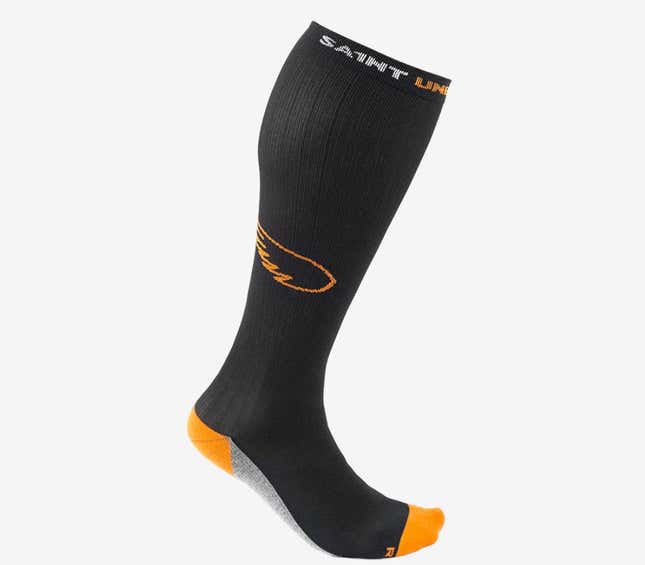 Everything works in harmony to provide fairly good airflow when you're moving. It means you're never going to get too hot when you're riding. But it provides enough insulation that — unless it's very cold out — you won't catch too much of a chill either.
Obviously, I have not crashed while wearing my Saint gear, but I should be rather okay if I do. Saint says its jacket gives riders a 5.9-second slide time and it's a AA certified garment when the pads are installed. I'm not a very smart guy, so I'm not going to try and write out exactly what all that means. This is a helpful resource if you want more information on motorcycle safety ratings.
Should You Buy It?
The Saint jacket will run you $425 and the Saint Engineered jeans come in at just under $200. You can then add in $35 each for the compression socks and compression arm sleeve. Finally, the extra ghost armor will set you back $70. All in all, it may sound like a good deal of money, but when you're getting both really good protection and an attractive package, it's hard to argue with that sort of price. You can always cheap out when it comes to motorcycle gear, but the one thing that'll never be cheap is a hospital bill.

In all honesty, I haven't tried too much else in the way of motorcycle protection. From where I stand, few other companies and even fewer products combine this much safety in a light package that won't make you look like a total goofus when you get where you're going. The Unbreakable Jacket and Armored Jeans make sure of that. Just make sure you have the fine motor skills to work a button.