Despite what the song says, some old acquaintances should be forgot and never brought to mind. Keith Barry of Wired's Autopia does the dirty work of remembering these ten departed models of 2010. — Ed.
Each year, auto manufacturers phase out models without fanfare, more concerned with the next new model launch than with recalling the memory of a bygone brand. Nobody remembers the day that the Ford Five Hundred was relaunched as a Taurus, and (we hope) no commemorative plaques exist to mark the final Nissan Pulsar that rolled off an assembly line.
Many models we lost this year, however, had a lasting impact on the American automotive landscape. Whether due to perennial best-seller status, filling a niche or simply Chrysler's sheer inability to launch new product, the cars that won't be seen on dealer lots and rental fleets in 2011 mostly leave us with a renewed hope for the future of the auto industry — and a paucity of material for ridicule.
Photo: Shutterstock.com
G/O Media may get a commission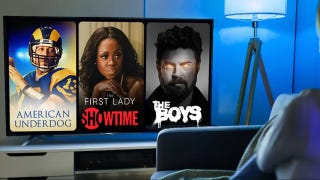 UNDER $1
99¢ Prime Video Channels
The Body-On-Frame Ford Explorer (1991-2010)
The vehicle that created a category and started a craze, the Ford Explorer survived the Firestone tire scandal, consumer demand for even larger vehicles and millions of trips to soccer practice. It was rebranded as a Mazda Navajo, covered in body cladding and sold as a Mercury, dressed in Eddie Bauer, and even deconstructed back into the pickup from whence it came as a Sport-Trac.
While the Explorer nameplate returns on a 2011 model, the posteriors of drivers and passengers will be glad to learn it will no longer feature body-on-frame construction. Serious off-roaders will scoff at a so-called SUV with unibody construction, but we have a funny feeling they're not the new Explorer's target audience.
Photo: Ford
Kia Borrego (2008-2010)
The Borrego surely ties with the Chrysler Aspen as the least-noticed SUV of the past decade. Since reviews were generally positive, we imagine that the slow sales of the Borrego were due to bad timing. Kia decided that the best time to debut a body-on-frame SUV was when buyers were flocking to subcompacts, hybrids and crossovers as gas prices first topped $3 a gallon. So few Borregos sold that Kia stopped importing them to the US for 2010, leaving the dealers with 2009 models. Though it continues in production in Korea as the Mohave, the Borrego joins the Rondo in being unceremoniously axed in 2010.
Photo: Wikimedia Commons
Mercury Grand Marquis (1983-2010)
Of all the body-on-frame full-size rear-wheel-drive sedans that Ford axed, we'll miss the Grand Marquis the most. The Crown Vic was a blue-collar workhorse, immortalized as a cab and police car. The Town Car brought us to weddings, funerals and the airport. While both those cars were suited to do particular jobs, the Grand Marquis was a deliberate choice made by a car owner, and it made a statement.
That statement was usually a question: A Grand Marquis owner asking, "Can you help me find my car?
Hard to believe that the 1998 Grand Marquis shown above has the same cassette deck, bench seat and column shifter available in the Mercury's last model year of 2010. Harder to believe that it was a best seller.
Photo: Ford
NUMMI-built Toyota Corolla (1984-2010)
Though Corolla buyers probably wouldn't notice a difference, the final Toyota to roll off the line at the former GM-Toyota plant in Fremont, CA on April 1, 2010 marked the end of a great experiment in the auto industry.
The New United Motor Manufacturing, Inc. plant project added Toyota's management style to one of GM's most underperforming facilities, reducing defects and increasing efficiency. A lot of reasons led to the plant's downfall and eventual sale to Tesla Motors, and we recommend anyone interested check out the excellent hour-long report on NUMMI from Public Radio International's This American Life. It's a riveting listen, and a great opportunity for a rear-view mirror glance at the American auto industry.
Photo: Toyota
Chrysler PT Cruiser (2000-2010)
Like kudzu, herpes and Brett Favre, the PT Cruiser just wouldn't go away.
Until this year.
Usually festooned with fake chrome chain-link license plate holders and press-on flames more suited to Safeway than SEMA, it was easy to see how it gained the nickname "loser cruiser." Chrysler intentionally designed the PT Cruiser so it could be classified as a light truck and help bring down the company's average fuel economy for light trucks. Unfortunately, it came with gas mileage befitting a light truck./p>
Retirees lamenting the loss of a retro ride are best advised to check out another creation of PT Cruiser designer Bryan Nesbitt, the comparatively restrained Chevrolet HHR.
Photo: Chrysler
Honda Element (2002-2010)
Where most dead vehicles get quietly towed to that great dealer lot in the sky, Honda took the unusual step of announcing the demise of the boxy Element in a press release.
With the Element, Honda made a classic auto industry error: They targeted the marketing of the Element at active twenty-somethings, forgetting that few recent college grads could afford a brand new car. While the hose-down interior would be great for a camping trip and the wide entrance made moving out of a dorm a snap, most of the Element's target audience was at their local Honda dealer to negotiate a payment on a ten year old Civic.
Photo: Honda
Lexus SC (1991-2010)
We were stunned to learn that Lexus had stopped production of the SC hardtop convertible. Hadn't it been discontinued years ago? It was similar to the reaction we had when we found out Mitch Miller died.
Though one of the most attractive cars on the market when the most recent generation debuted in 2001 (facelifted in 2005), the luxe folding hardtop just couldn't compete in sales. In 2002, US sales figures topped 14,400. In 2009, a mere 720 cars were sold.
Photo: Wikimedia Commons
Volvo V70 (1998-2010)
For the first time since the Eisenhower administration, Volvo no longer sells a mid-size station wagon. Though the V50 and various crossovers remain, the iconic descendant of the Amazon, 145, 240, 740 and 850 has had its Viking burial. It's probably because nobody outside of the Stockholm police department has ever bought a brand new Volvo station wagon — we swear they churn them out in Gothenburg with a tear in the leather, broken AC and 110,000 miles on the odometer. Hence, the absence won't really be felt until 2035, when college students and Berkeley residents start looking for a 2011 model.
Photo: Volvo Cars
Chrysler Sebring (1995-2010)
If there were an Emmy for best car-character matchup, it should go to the person on the production team of NBC's The Office who outfitted feeble-minded boss Michael Scott with a Chrysler Sebring as a company car.
It wasn't supposed to be that way. The Sebring started out innocently enough as a LeBaron replacement that offered decent handling and lots of options for the price. It was the right car for the first Clinton administration, when we were all signing onto AOL on dialup modems and watching the second season of Friends on our projection TVs.
Unfortunately, Chrysler's lack of cash and need for a mid-sized sedan/coupe/convertible meant that the Sebring stuck around well past its prime. The most recent version was an abomination, but rental fleets and rebate-happy buyers snapped them up. What surprises us most is that somehow the Sebring convertible managed to outlast even Toyota's remarkably inoffensive Solara.
Photo: Chrysler
Chevrolet Cobalt (2004-2010)
When it replaced the similarly forgettable Cavalier, the Cobalt was much hyped as the Next Compact Import-Killer. The Cobalt was good — especially wearing the ridiculous spoiler of the SS trim level, shown above — but not great. Like every bowtie-badged small car before it, the Cobalt paled in comparison to the mighty Corolla and Civic and languished in rental car fleets. We hope that the death of the Cobalt also marks the death of subpar compacts.
Photo: GM
---
This story was written by Keith Barry, and originally appeared on Wired.com's Autopia on Jan. 3, 2011, and was republished with permission.


Email us with the subject line "Syndication" if you would like to see your own story syndicated here on Jalopnik.