Like its Mi-8/17 "Hip" cousin, the Mi-24/35 "Hind" series of Russian helicopters has a slew of unique configurations. Yet one of the most puzzling is the Mi-35MS, a de-armed advanced Hind derivative that has been converted into an aerial taxi for military VIPs.
Although the Mi-24—primarily an attack helicopter—was designed with a small cabin able of carrying around eight combat troops, the type does not come to mind as a candidate for a VIP transport conversion. Russia has the Mi-8MTV configuration for that exact role, this is the same Mi-8 configuration that President Putin flies on regularly. Additionally, high-up Russian Ministry of Defense officials use similar configurations in the field, some of which have enhanced command and control capabilities.
Even with much more logical options available, this odd and shadowy Hind conversion somehow happened, and the most modern version of the Mi-24, the Mi-35, was used as the platform for this new sub-type. There are at least four of these helicopters in inventory, and they have been seen coming and going from the Kremlin's helipad and at the newly remodeled Ministry of Defense. It's possible they are operated by the Russian Border Guards or the Russian Ministry of Defense.
G/O Media may get a commission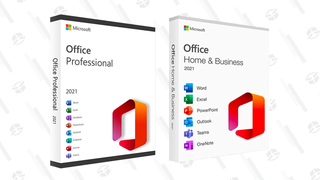 95% off
Cyber Monday - Lowest Price Ever - Microsoft Office Lifetime License
The type wears a green paint job, but it's not anything like the glossy emerald tone found on America's VH-3D's (Marine One); instead it's a flat, no-frills livery.
The Mi-35MS carries no armament. In the place where rocket pods and missiles are usually hung, there are long-range fuel tanks and missile approaching warning sensors. Where the Hind's chin-mounted gun is traditionally mounted under the cockpit, a large radar fairing exists, and communications suite is installed along the helicopter's spine. This antenna farm includes a large Raduga-MB satellite communications installation behind the helicopter's main rotor. Other enhancements native to the Mi-35 are night vision flying compatibility, multi-function displays, and a GLONASS/GPS navigation suite. Uprated engines, improved rotor design and other elements also differentiate the baseline Mi-35 from the Mi-24.
Finally, the interior of these unique helicopters show a modern and luxurious cabin, although it can only accommodate a handful of people due to its small size. (You can see photos at this Russian aviation site) The sheets shown in the pictures covering the seats are likely there to protect the leather. Like other military VIP helicopters, it has flat-screens displays,and a phone system. The couch seating may also be used as a bed. In total it looks like the cabin can comfortably carry only about five passengers.
Still, one has to wonder why Russia would convert a cramped Mi-35 for VIP duties when the Mi-8 would be so much better suited for such a mission. Not only that, but a full range of Mi-8/17 VIP layouts with integrated command and control systems are available. This roomier transport helicopter offers far more flexibility and adaptability for specific upgrades in the future.
Even if the Russian MoD was aiming to make some sort of hardened front-line expeditionary combat VIP helicopter, an up-armored and VIP modified Mi-8 would still have been a much better choice.

It seems someone at the top of Russia's military apparatus wanted their aerial chariot to be the most menacing VIP helicopter in the world, and one that is also an icon of Russian military might. That doesn't mean it is logical, but hey, that doesn't seem to matter when it comes to many of Russia's military decisions as of late.
Hind luxury flying limousines. Only in Russia.
Contact the author at Tyler@jalopnik.com.
Top photo via Russavia/Wikicommons