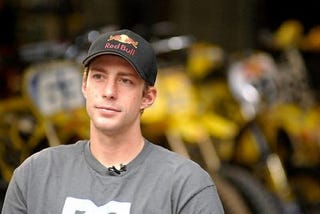 According to AutoFiends, rally driver Travis Pastrana reportedly broke his hip and ankle, sidelining him for this weekend's Race of Champions.
Apparently Travis Pastrana has injured himself sustaining a rumored broken hip and ankle—we don't have full details on how, although Travis is no stranger to crippling injuries. At 14 years old, he separated his spine from his pelvis and put himself into a coma for two weeks, thereby joining the small handful of people who lived through such damage. Since then, he's had more surgeries than Cheney yet always bounced back.
For this who don't know what the Race of Champions is, or may have it confused with the long dead aquaneon International Race of Champions, here's a primer:
To boil it down to it's gritty essence, the ROC pulls drivers of circuit racing and offroad racing series from around the world, sticks them in twitchy little rockets like the KTM X-Bow or the Abarth 500 and sets them loose to compete against each other head-to-head in the newly minted Wembley Stadium in London. Sounds like a hell of an event to miss when you've already got yourself a seat, right?
Get well soon, Travis.