In just three weeks, Ron Howard's Formula One epic RUSH will hit theaters and bring the legendary rivalry between drivers Niki Lauda and James Hunt to the big screen. It's going to be amazing. How do we know? The early reviews say so.
This isn't surprising considering its exhilarating trailers and the incredible talent involved, but already RUSH has been garnering very positive reviews from critics who have seen it. We've rounded up a few below that will let you know what to expect if you're curious.
Of course, if you stop by the inaugural Jalopnik Film Festival in New York on Sept. 19, you'll be able to see it before anyone else. Come on, you know you want to.
Peter Debruge — Variety
Mozart vs. Salieri. Kennedy vs. Khrushchev. Gates vs. Jobs. Add to that list of epic clashes Formula 1 adversaries James Hunt and Niki Lauda, whose larger-than-life bout for the 1976 world championship title fuels Ron Howard's exhilarating "Rush" — not just one of the great racing movies of all time, but a virtuoso feat of filmmaking in its own right, elevated by two of the year's most compelling performances. It's high-octane entertainment that demands to be seen on the bigscreen, assembled for grown-ups and executed in such a way as to enthrall even those who've never watched a race in their life.
G/O Media may get a commission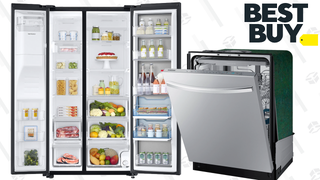 Up to 50% off
Best Buy - Samsung Major Appliance Sale
David Gritten — The Telegraph
Rush breaks the mould; its racing scenes are thrilling, and the personal dynamics in the pits and away from the track genuinely intriguing. Here's a Formula One story that's not just for petrolheads. Of course, it's not really a Hollywood picture at all, but a generously budgeted independent film. Rush combines studios' production values and their penchant for action with British-flavoured storytelling. No coincidence that Working Title's Eric Fellner, a producer on Senna, has a similar function here.
Geoffrey MacNab — The Independent
At times, the film veers into buddy movie territory. The drivers, for all their rivalry and seeming enmity, are utterly fascinated by one another. There is also an attempt to cast Hunt and Lauda as mythic archetypes. All this is only fitfully successful. It's out on the track itself that Rush really picks up speed and emotional urgency.
Seb Patrick — Den of Geek
Sometimes, reality can prove itself better than fiction. If Rush were an entirely fabricated story about the rivalry between two racing drivers in the 1970s, then it would probably have a quite clear delineation between them: a smiling "good guy" for the audience to root for and who ultimately triumphs, versus a cynical "bad guy" who frequently looks to be on top before his eventual defeat. Instead, it's a film with two heroes, allowing the viewer to decide whether to sympathise with maverick playboy James Hunt (Chris Hemsworth), analytical recluse Niki Lauda (Daniel Brühl), or both.
Maurice Hamilton — ESPN F1 Blog
The track action is melodramatic and yet believable. There are occasional cheesy scenes in sparsely populated pit lanes that remind you of Grand Prix, made in 1966. But, overall, you are swept along by a story line for which, had it not actually happened, you would dismiss the scriptwriter as a fantasist.