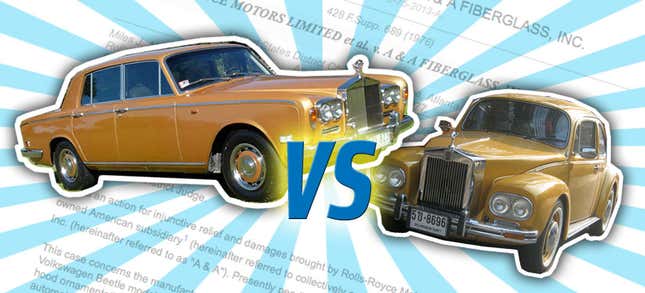 Have you ever bought a Rolls-Royce? Specifically, have you ever bought a strangely small Rolls-Royce that had kind of bad paint, a headliner ripped all to hell, and desperately needed a muffler for, oh, about $1100? If so, my friend, then I'm afraid you've been had, because that wasn't a real Rolls at all! Luckily, this court decision is here to protect you.
Listen To The Lexus RC F Sing Through The California Mountains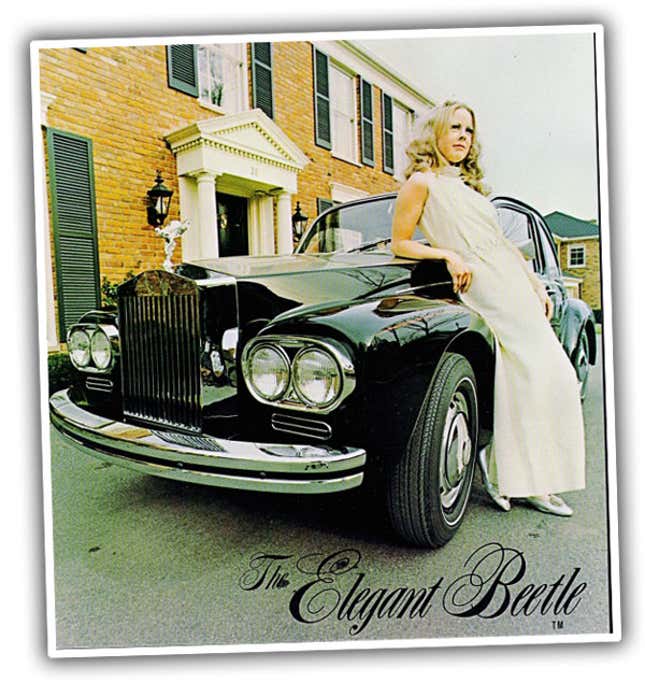 What I found is a court document titled ROLLS-ROYCE MOTORS LIMITED et al. v. A & A FIBERGLASS, INCORPORATED, and it's something I never knew existed, about a special kind of car that's very close to my heart. This is the U.S. District Court (Atlanta Division) decision on Rolls-Royces suit against A&A Fiberglass, makers of the kit known as "The Elegant Beetle," which would transform your old Beetle into a glorious, subscale Rolls-Royce.
For those of you too young or simply denied access to the greater joys of living, there was once a time in America, somewhere around the mid '70s to '80s, where old Beetles fitted with fiberglass hoods designed to resemble a Rolls-Royce hood and grille were quite common.
A bunch of companies made them, and I remember seeing them all over the place growing up. Some were on ratty old Beetles, and possibly just used as a convenient replacement for a damaged hood, but some people really got into it, and put full, elaborate kits on, including new fenders, continental-style rear decklids, dual headlights, and more. There was one two-tone brown Micro-Rolls in my hometown that was immaculate and lovely, and even had fake wood panelling on the sides, because why the fuck not.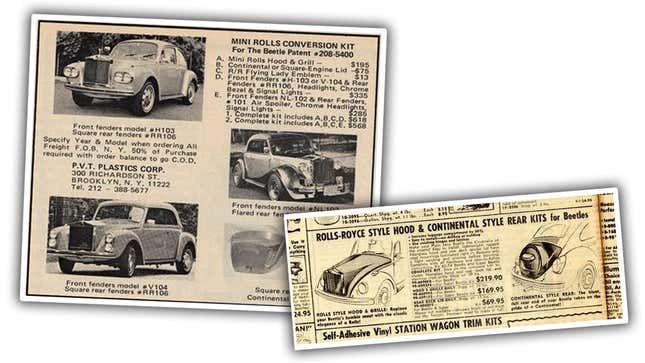 There's something I always really loved about these Beetles dressed as Rolls-Royces. Nobody actually thought they were fooling anybody, of course, with a half-size Rolls-Royce that was louder under acceleration than an entire years' output of Silver Shadows. It wasn't about pretending to be something the car wasn't — it was about fun.
The car was a joke, of course, and there was once a time where you could drive a car that didn't take itself so seriously and be happy with it, day after day. It wasn't about status or making your car look tougher or faster or whatever — it was simply funny. A good time.
Whoever drives a Beetle with a full-on Rolls-Royce kit isn't just someone fresh out of fucks to give — it's someone who isn't even aware fucks are still available at all, because they've been having too good a time to even check.
In fact, if the Earth was doomed and we were all being herded into 2-person escape pods, and you were stuck surrounded by strangers, I think the one question you could ask someone to know if you would be okay spending a year in a 2-man escape pod with them is "Do you drive a Beetle with a Rolls-Royce kit?" If the answer is yes, I'd say you're golden.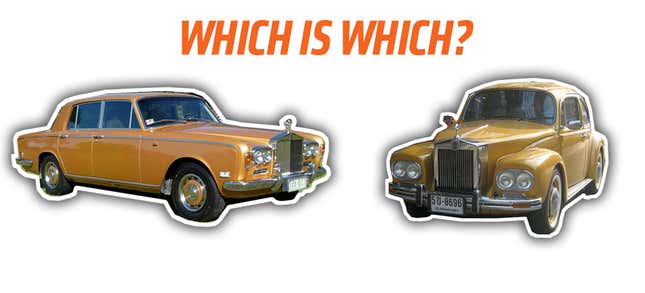 Anyway, that's what I think of Rolls-Royce-ified Beetles. What Rolls-Royce thought of them is a very, very different matter. Even if those Rollsbugs are absurd, Rolls has its identity to defend, specifically its distinctive grille and that famous Flying Lady hood ornament.
Because those things are 3-dimensional car parts, defending them could be a bit tricky, as A&A Fiberglass tried to remind everyone:
The defendant seeks to avoid liability for trademark infringement at the outset by contending that neither the Classic Grill nor the Flying Lady is capable of trademark recognition. It argues that, to the extent that these parts are functional, protection can be found only in the patent laws and that, to the extent that they are nonfunctional, copyright is the only safeguard. Under this analysis, however, no three-dimensional article, whether utilitarian or not, could ever be the subject of a trademark.
Unfortunately for A&A Fiberglass, Rolls' lawyers weren't buying that, citing, in a footnote:
If a three-dimensional object is "used by a manufacturer . . . to identify his goods and distinguish them from those manufactured or sold by others," 15 U.S.C. § 1127, then it is eligible for trademark protection. Federal registration has been granted, for example, for the Mercedes-Benz emblem and the Alfa-Romeo grill.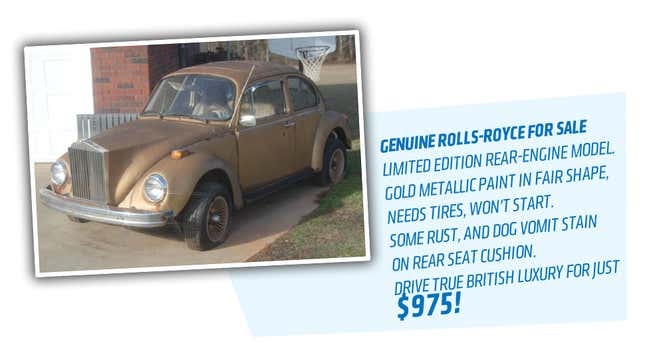 And, even if people aren't buying Rolls-Royces just for the grille and a little naked chrome fairy, that doesn't matter:
It is tenuous at best to contend that the grill and hood statuette are the motivating factors in the purchase of a $50,000.00 automobile. They are valuable because, absent the various attempts to copy by the defendant and others, no other automobile in the world that carries these symbols is a Rolls-Royce.

Rolls-Royce does not contend that it should be permitted to have a trademark on its entire car or grills and ornaments as generic objects. But if these articles have the characteristic of secondary meaning, that is, identification of Rolls-Royce, then they are entitled to trademark protection.
Everyone knew what those grilles were supposed to look like, and while I suspect nobody with an I.Q. over that of drywall would ever be confused that the air-cooled, $750 Rolls-Royce with one mismatched door they were considering buying was a real Rolls-Royce, Rolls nevertheless has an obligation to protect its identity. And the courts agreed, telling A&A Fiberglass:
It is hereby ORDERED, ADJUDGED and DECREED as follows:

1. This Court has jurisdiction over the subject matter and parties.

2. The trademarks and designations of origin identified below are valid and subsisting and owned by the parties respectively indicated:

(a) The "Flying Lady" three-dimensional trademark and designation of origin which is depicted in Exhibit "A", owned by Rolls-Royce Motors, Inc.

(b) The "Classic Grill" three-dimensional trademark and designation of origin which is depicted in Exhibit "B", owned by Rolls-Royce Motors Limited.

3. Rolls-Royce Motors, Inc., is the owner of U.S. Registration No. 850,902 for the three-dimensional "Flying Lady" trademark, which registration is valid and incontestable in law and is in full force and effect.

4. Rolls-Royce Motors, Inc. is the owner of Georgia trademark registrations for the Flying Lady and Classic Grill three-dimensional trademarks, specifically Certificates of Registration Nos. T-3131 and T-3132, respectively, both of which are valid and subsisting.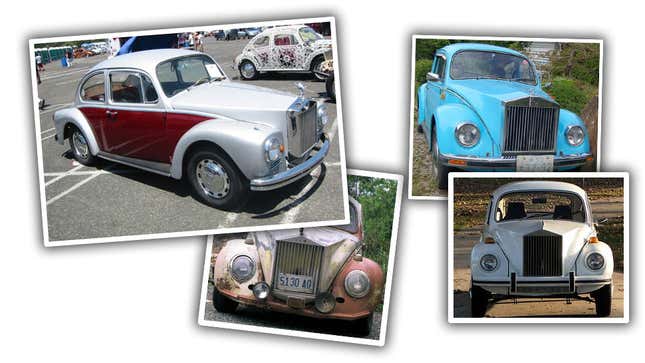 5. Defendant has by its acts heretofore infringed the rights of Plaintiffs in each of their respective trademarks and designations of origin set forth in the three paragraphs immediately preceding, both under the United States Trademark Act of 1946, as amended, and the trademark laws of the State of Georgia, by using colorable imitations of Plaintiffs' "Flying Lady" and "Classic Grill" trademarks in connection with the advertising, distribution and sale of its products. Such use by the Defendant creates the likelihood of confusion, mistake and deception, and, in addition, constitutes false designation of goods in violation of 15 U.S.C. Sec. 1125(a) and deceptive trade practices in violation of Georgia Code Annotated, Sec. 106-703.

6. The Defendant, its officers, agents, servants, employees, attorneys, and all other persons otherwise acting in concert, participation or privity with Defendant, and their successors and assigns, are hereby permanently and perpetually restrained and enjoined from doing, abiding, causing or abetting, directly or indirectly, in the United States or elsewhere in the world, any of the following:

(a) Infringing either of the Plaintiffs' trademarks and designations of origin listed in paragraphs 2-4 above;

(b) using any reproduction, counterfeit, copy or colorable imitation of the trademarks and designations of origin listed in paragraphs 2-4 above, or any of them, including the reproductions thereof heretofore used by Defendant, in connection with the manufacture, sale, offering for sale, distribution, advertising, or labeling of any goods or services, including without limiting the foregoing, use on or in connection with, or in any manner related to, automobiles, automobile parts, kits for modification or conversion of automobiles or any related goods or services, or any other use tending falsely to describe or represent or which is likely to cause confusion, to cause mistake or to deceive;

(c) representing or suggesting in any way that Defendant's goods and services have been approved by, authorized by, or are in any way associated with Plaintiffs, or either of them;

(d) engaging in any acts or activities calculated to trade upon the trademarks, reputation or good will of Plaintiffs, or in any manner to falsely designate the goods or services of Defendant as originating with,

[428 F.Supp. 703]

being associated with, sponsored or approved by Plaintiffs, or either of them;

(e) using in the sale, offering for sale, promotion, advertising, marketing or distribution of its products or services, or on any package, cartons, labels, display cards, wrappers, advertising matter or the like whatsoever, the words Rolls-Royce or any simulation, colorable imitation or derivative of the trademarks and designations of origin listed above in any such manner so as to cause confusion or to be likely to cause confusion or to deceive the public into the belief that the goods and services sold by Defendant are manufactured, sold, authorized or sponsored by the Plaintiffs, or either of them, or that the Defendant and Plaintiffs are affiliated or in any manner connected each with the other.

7. Defendant is hereby ordered to deliver up for destruction any and all hood ornaments, front grill shells, labels, packages, cartons, display pieces, wrappers, advertising materials, letters, billheads, and any matter of description of any nature whatsoever in its possession, or which can be recalled, bearing the words Rolls-Royce or any copy, simulation, colorable imitation, or representation of the trademarks and designations of origin listed above, or any of them, within ten (10) days of entry of this Order.

8. Judgment is entered on the merits in Plaintiffs' favor and against Defendant on Count One for infringement of the federally registered "Flying Lady" trademark, Count Three for false designation of goods under 15 U.S.C. § 1125(a), Count Four for infringement of the "Flying Lady" and "Classic Grill" as Georgia registered trademarks, and Count Six for deceptive trade practices. Liability on Counts Two and Five, for common law trademark infringement and unfair competition and for trademark dilution are not decided by this Order, since they appear to be cumulative in nature and the remedy here provided is the same as sought in those Counts.

9. Judgment is entered on the merits in Plaintiffs' favor and against Defendant on the First, Second, Third and Fourth counterclaims for cancellation of Plaintiffs' registrations, damages for fraud in registration, antitrust violations and unfair competition.

10. Plaintiffs' request for an accounting, damages and attorneys' fees is dismissed without prejudice.
I'm not sure if this had any affect on any of the innumerable other companies, including JC Whitney, from selling these hoods, and there's still a bunch floating around.
Rolls-Royce was clearly in the legal right to demand these stop being made. But I think a much cooler version of Rolls-Royce could have looked the other way, and just smiled to themselves at these ridiculous cars-in-costume.
I bet they really didn't bleed all that much money away from their customer base, in the end.