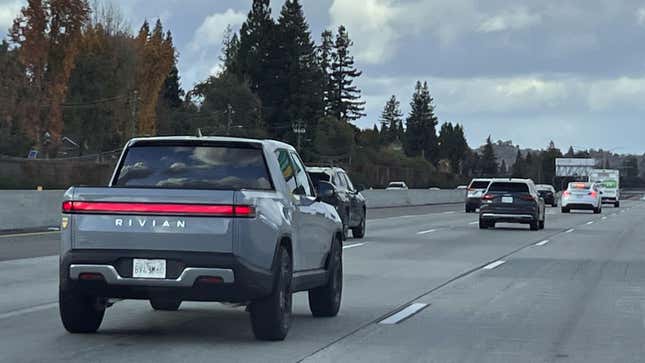 The electric car maker Rivian will lay off six percent of its staff, according to Reuters, or some 840 workers. If this sounds familiar, that's because Rivian laid off six percent of its staff, or some 840 workers, in July of 2022.
Tesla's Cybertruck Is Really Late to the Electric Party
Reuters, which has seen an email sent by Rivian CEO R.J. Scaringe, says the layoffs won't be impacting Rivian's operations at its Normal, Illinois, factory. Rivian has around 14,000 employees.
The company is focusing resources on ramping up vehicle production and reaching profitability, Chief Executive R.J. Scaringe said in an email to employees on Wednesday announcing the job cuts. Reuters obtained a copy of the email.

[...]

"We must focus our resources on ramp and our path to profitability," Scaringe said in the email, in which he apologized to employees for the necessity of the cuts.

A Rivian spokesman confirmed the email was sent, but declined further comment.
I also emailed Rivian to see confirm the cuts, coming so quickly as they did after the other cuts; a spokesman did not reply to my questions but did send along the email Scaringe sent to employees that Reuters saw. That email is:
Hi Everyone,
Team changes are among the hardest decisions we make as an organization. Today I'm deeply sorry to announce we are reducing our workforce by 6%. Those impacted will be receiving an invite from their manager within 30 minutes for a 1:1 meeting about next steps. While this doesn't impact manufacturing jobs in Normal, teams across the company will be losing passionate collaborators—teammates who stretched themselves daily and have given their all to help us execute on our mission.

To those departing today, I am truly thankful for all your contributions and dedication. We are committed to ensuring you have as much support as possible throughout this process.

Rivian exists to help drive the global transition away from a carbon-based economy by building category defining vehicles that inspire both customers as well as the competition. To deliver over the long-term, we must focus our resources on ramp and our path to profitability while ensuring we have the right set of future products, services and technology that will continue to challenge convention.

In 2022, we took steps to focus our product portfolio and drive a lower cost structure. Continuing to improve our operating efficiency on our path to profitability is a core objective and requires us to concentrate our investments and resources on the highest impact parts of our business. This includes the continued ramp of R1 and EDV production as well the launch of our high-volume R2 platform. The changes we are announcing today reflect this focused roadmap.

Today is a hard day. Please take the time you need to process this news and the changes. I'm sure you have questions about how this will impact your team moving forward—by tomorrow, every manager will be in touch with their team to begin the work of answering your questions. On Friday, we'll meet for an All Hands where I will share more about these changes and our journey ahead.

While some of our hardest work is in front of us, I am confident in our collective ability to achieve our ambitious objectives.

Again, I want to thank everyone for your help in building Rivian and for getting us to where we are today.

RJ
As far as mass layoff emails from the boss go, this one isn't terrible and gets to the point, though whenever I read one of these, they never seem to say things like, "and, by the way, me and every other manager are taking a huge pay cut," or "I, too, am not sure why I'm still in charge after this has happened yet again," or even "we need to cut six percent of employees but we don't want to do layoffs so why don't we try voluntary buyouts first," but then again I didn't go to business school. Thoughts and prayers to those who lost their job today, who probably didn't think there would be more layoffs so soon after the last ones.