Ducati's first attempt at a cruiser, the original Ducati Diavel, was a lot of things—but it just didn't have what people wanted from a cruiser. While it sold fairly well, Ducati felt like there was more of that XL-sized cruiser segment to be had. The XDiavel is Ducati's attempt to embrace the cruiser spirit while keeping some of the Ducati ethos.

(Full Disclosure: Ducati needed me to ride the XDiavel so bad, they brought me to San Diego because that's the only place that would probably have nice weather in January.)
The problem with the original Diavel wasn't that it was a bad bike. It was that it was still too Ducati and too Italian.
Sure, it had the styling nailed. That massive rear tire made it sort of look like those dudes at muscle beach. But it also made its power high in the rev range like a sportbike, not with tons of low-end torque like people want from their Harleys. For some context, read this old story on HFL: Sean Smith got on one when it first came out and, even after spending time on it, he couldn't figure out what it was.
G/O Media may get a commission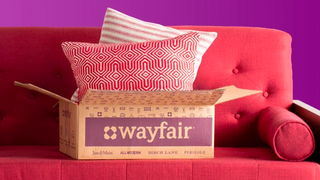 Big deals
Wayfair Surplus Sale
This new XDiavel fixes that in a lot of ways, but the real difference comes from things unseen rather than the obvious belt which turns the rear wheel or foot pegs. That, cruiser lovers, is where the real magic lies.
The Specs That Matter
As easy as it would be to throw some different parts on the Diavel, add a cool letter in front of the name, and call it a day, the XDiavel is actually a completely new motorcycle. Ducati claims the only thing it shares with the Diavel are name, tires, and calipers.
To power the XDiavel, Ducati borrowed the Testastretta Desmodromic Variable Timing (DVT) L-Twin from the Ducati Multistrada 1200 and increased the stroke 36 mm for a displacement of 1,262 cc. Compression was also increased from 12.5:1 to 13.1:1 over the Multi.
While those numbers are great and all, what matters here is the way the power is delivered. Some of the early reports on Ducati's DVT system were unfavorable, but the system in the XDiavel really helps make low RPM inputs smooth for such a massive motor.
On top of that, this new motor makes torque in a much more cruisery fashion. Gone is the steady gain to an 8,000 RPM peak of the regular Diavel, this new bike has a double peak torque curve, making 95 foot-pounds at both 5,000 RPM and 7,500 RPM. Horsepower however comes in slightly down from the original Diavel, with the XDiavel making six less ponies at 156 horsepower at 9,500 RPM.
As is to be expected, the XDiavel, priced starting at $19,995, gets a smattering of features from Ducati's catalog like different riding modes, the Ducati Safety Pack (cornering ABS and traction control), Ducati Power Launch, ride-by-wire, keyless start, and cruise control. Step up to the XDiavel S ($22,995), and you'll also get daytime running lights, bluetooth connectivity, fancy bits and paint, and better brakes (it gets the M50 monobloc caliper over the standard XDiavel's M32).
The other big thing Ducati did is to take a page from the Kawasaki Vulcan S's playbook. I know what you're thinking, what could Ducati have learned from a budget Japanese cruiser that actually looks like it was styled after the Diavel. Part of the success of the Vulcan S has been Kawasaki's ergofit system, and Ducati have mimicked this by giving the XDiavel 60 possible ergonomic configurations.
There's four foot control positions (one is a mid mount kit, which is sold separately), five seat options (standard/comfort/low/high/leather), and three handlebars (standard/rear set by 25 mm/forward set by 25 mm).
We Rode The Damn Thing
To test the XDiavel, we went to sunny San Diego for a mix of city riding, open highways, and mountain roads. The XDiavel looks slimmer and more svelte than the regular Diavel and I was actually pretty excited to ride it. I'll never be their target demo for this bike, nor would I ever really want to own one, but the idea of pretending to be a muscle bike guy for the day and on something that was actually pretty cool looking had me all sorts of excited.
However, my biases were showing as soon as the kick stands went up. I don't know how or why people ride with forward controls, but I found myself looking for where to put my feet every time we pulled away from a light and rather distracted by it. While the suspension on the XDiavel is better than you'll find on other cruisers, that feet-forward riding position still keeps you from using the lower half of your body to aid in reducing the impacts felt by the road, and I still found myself grimacing a bit as I hit potholes.
Despite the awkward riding position, the XDiavel maneuvers fairly well once you train your brain to think long and low. The DVT does wonders in smoothing out slow speed riding, which means your brain can focus on maneuvering through traffic without worrying about unwanted accidental steering inputs from a massive motor trying to chug along at slow speeds.
Once we hit the highway, you could almost see a sigh of relief and the pack of journalists got to get to the part we're good at: going fast. We all marveled at the way the original Diavel tried to remove your arms from your sockets under full gas, and the XDiavel is that moved lower.
Power is abundant above 2,500 RPM, but it really kicks you in the nuts at 5,000 when it hits that first peak in torque. For those brave enough to keep giving her more, power levels off a bit until around 7,000 when it once again asks you if you're sure you know what you're doing.
As if the power wasn't addicting enough, the sound the XDiavel makes encourages you to get all sorts of enthusiastic. Below 2,500 RPM, the XDiavel actually sounds like your average cruiser as it chugs and chortles along.
But the engine isn't happy here. It wants more. And, when you give it more, it rewards you with a distinctly Italian roar, similar to that of the Monster 1200 R.
While the motor of the bikes likes to go fast, the same can't really be said for the rest of the bike. Well, let's qualify that. The XDiavel is far happier than anything else labeled "cruiser" in the windy stuff, but it's still a far cry from anything you really want to be on out there. Ducati claims 40 degrees of lean angle, even with the forward controls, but the riding position and bike geometry are far from confidence inspiring at lean. File this under: fun for a few turns, but not something you're pumped to take for a canyon ride on.
What We'd Change
The biggest issue for most people with the XDiavel is going to be fit. My friend Andria, who writes for USA Today, was along for the ride, and is all of 5'2" tall. Even with the pegs moved to their rear position (not the mid controls, but just moved back 22.5 mm), she still looked folded in half and pretty uncomfortable on the bike. At six feet even, I could operate the controls more easily, but wouldn't call myself comfortable.
If Ducati decided to leave one of these XDiavels in my garage for the next year or so, I'd have mid controls on it and likely the rearward swept bars ASAP. The bar change would likely make freeway riding a little less comfy as I'd catch even more wind, but it would be worth it to sit a little more upright. The bike is tough looking enough, I don't need to flex even more.
Those mid controls would also likely take away even more of my clearance but this is a cruiser after all, and I'd rather cruise in comfort and have something else to ride fast. I'd still be able to frustrate most squids, and would be way happier around town.
After riding both the regular and S versions, I'd also want the brakes from the S. The XDiavel isn't heavy, but it also isn't especially light and the M50 caliper on the S model has way more initial bite than the M32 caliper on the regular model. And, after plowing a Ducati into the side of a red beetle last week, I'm an even bigger fan of stopping.
You Wanted To Know
I posted a pic of the bike on those social medias the teens are always talking about and asked what your questions were about the bike so I could help tailor the review to what you wanted to know. If you aren't following me on Instagram or Twitter, you really should be. I try and keep the food and cat pics to a minimum.
"What's really the market Ducati is going after here?" - To be completely honest, I still don't totally know. The XDiavel looks worlds nicer than the Diavel, makes power more like a cruiser and has a belt drive and forward controls, but it's hard to see them stealing guys looking at Harleys. I'd say people who are interested in cruisers, but who haven't really seen something that tickles their fancy just right.
"How does it compare to the V-Rod?" More horsepower, more torque (made lower), and 150 pounds lighter. It's more expensive but it also looks nicer, and Harley guys won't think you're in their club regardless of which bike you buy.
"How is it two up?" I didn't get to ride two up on this ride, but they did have a model with the little passenger back rest that comes stock with the bike. Despite not looking like much, it's just enough to keep the pillion's butt in place. I'd expect it to be a fairly nice ride back there, so long as the rider could keep their right hand in check.
"What's worse, trying to explain to people that yes that really is a Ducati and I know it's not like their other bikes, or listening to Nickelback radio?" - Nickleback radio, every time. Sorry for you fans out there, but that shit is terrrrible.
"How does it stack up against the BMW R Nine T (if you've ridden the BMW)? I feel like I'm not the only one cross-shopping the two.." - Umm, I sort of think you are, but I'll play anyways. Because I like you. They're completely different, though they have similar strengths and weaknesses. Both are a little clumsy around town and better on the open road, while needing more wind protection. Seating is drastically different, as are the types of girls/guys/whoever you're into you'll impress with them.
"How's the Simpson?" - Awesome actually. I mean, it's no modern helmet, but I expected far worse from something designed so long ago and with aesthetics as a focus. Comfy inside, decent field of vision, pretty boomy but it's not really meant for being in for too long.
"How's launch control?" - Ducati wouldn't let us test it out and the one journalist who refused to obey did so incorrectly and almost spun himself into a ditch. I won't be trying it until someone comes over and wraps me in pillows.
"This or the regular Diavel?" - This. All day every day. Yes, the original is more comfortable, but I can't stress how much fun having that power so low is. This bike feels a little less silly-looking, and the ergos can be fixed.
Why You Should Care
While the XDiavel isn't really my bag and it might not be yours, it's a well-thought out machine that's great at being itself.
When I reviewed the Polaris Slingshot, I said that no one bought one because they were cross shopping or comparing with similar options, but that they just wanted that specific machine for what it was.
In the same token, I think Ducati will sell XDiavels mostly because of what they are, and not because someone stumbled across it looking at V-Rods or VMAXs.
Its unapologetic in its Italian-ness, and owns its Ducati performance heritage just as much as it tries to push into a new segment. I wouldn't really want to ride one for more than a few weeks, but that doesn't mean you shouldn't. Because if this is your bag, you're going to love it.
Sean's Gear:
Helmet: Simpson Street Bandit
Jacket: Aether Eclipse Motorcycle Jacket
Vest: Crank & Stroker Heavy Preacher Vest
Gloves: Dainese Blackjack Gloves

Pants: UglyBros Tonup Jeans
Boots: Dainese Cooper Boots
Photos: Ducati
Contact the author at sean.macdonald@jalopnik.com. Follow Lanesplitter on Facebook and Twitter.