The Polaris Slingshot and Dennis Rodman are a lot alike. They're both a little odd looking, both flashy, they both love to party, both love to make a highlight reel, and both love donuts.
Okay, I don't know if Rodman loves donuts, but there's a good chance.
(Full Disclosure: Polaris wanted me to drive the Polaris Slingshot so bad, they let me Uber to their press fleet and borrow one for a week. When I asked if I had to wear a helmet, the fleet manager shrugged. He did the same when I asked if it was technically a car or a motorcycle.)
My time with the Slingshot was far too short but, with your help, I managed to do a lot. I found every excuse to hop in and go for a spin, which is more than I can say about a lot of machines that are technically far better.
G/O Media may get a commission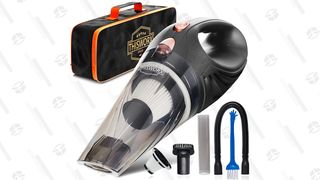 Save 50%
ThisWorx Car Vacuum Cleaner
So what is it? A car or a motorcycle? Texas, the state that banned the Sling and then later reversed their decision, is calling it an autocycle. The California dealer staff who worked at the press fleet I picked mine up from had an answer I liked better: "no one really knows."
It's a trike ass-backwards, with the extra wheel stolen from the go-faster side and moved to the turny side. Pedestrians who approached from the front asked what kind of car it was, while those who walked up from the back asked, "who makes that bike?"
Sitting in the cockpit, the Slingshot feels like a car. It has a normal seatbelt, steering wheel, stick shift, forged aluminum roll hoops, and a stereo system. It's also allowed in the carpool lane - or so the manufacturer told me. Mixed messages all around.
The Specs That Matter
The Polaris Slingshot is powered by a longitudinally mounted GM Ecotec 2.4-liter four cylinder engine. It's the same one found in the Pontiac Solstice and Saturn Sky, and produces 173 horsepower and 166 foot-pounds of torque.
While its motor isn't all that weird, the rest of the Slingshot that is. The steel frame chassis comes to an abrupt end with the driver's ass, where it sprouts a massive swingarm and 265/35-20 tire.
Overall, the Sling comes in at 149.6 inches long, 77.2 inches wide (at the front), and 1,718 pounds. For context, that makes it shorter than a base Mini Cooper, wider than a Lamborghini Gallardo, and lighter than a Smart ForTwo.
ABS, traction control, and electronic stability control all come standard and yes, the traction control can be turned off. Off or on, the 173 ponies are enough to get something this light and with this little rear rubber loose if shifting aggressively, but TC cuts the fun short if you forget to turn it off - which you don't.
The regular Slingshot starts at $21,199 while the Slingshot SL will run you $25,199 for the addition of the small wind deflector, 18 inch front wheels, and the media console with the six-speaker stereo system and backup camera. The Slingshot SL SE model we tested has an MSRP of $26,199 and gets some red accents, a tinted wind deflector, and an interior lighting system.
We Drove The Damn Thing
Driving the Slingshot is unlike anything else I've driven to date, with both massive positives and massive negatives. My first drive took me straight to the Southern California freeway system, where I immediately learned that the Slingshot doesn't want to track a straight line like a car does.
It's more like the Ural, requiring constant inputs to redirect the front end back and forth. They say a good vehicle makes fast speeds feel slow - but the Slingshot makes doing 60 mph on the freeway feel like you're in triple digits.

All of the inputs require heavy force. The steering feels weighty and the gears engage with a satisfying thunk. The gas pedal requires you really mean it, and the brake pedal is part leg-press. My girlfriend asked me if I forgot how to drive a car when we got back into my Mazda the following week because I couldn't seem to do anything smoothly after the brute force required to drive the Sling. Luckily, this isn't a car...I mean autocycle, that wants to be driven smoothly.
The thing about the Slingshot is that it isn't very good at any of the things that we normally use to measure performance. Any small mildly sporty car, and almost every motorcycle, are going to be faster. And car more comfy, and any bike will let you split lanes (whether it's legal or not).
The Slingshot's weatherproof seats store as much of the sun's heat as possible and the engine blows hot air onto your feet while you sit in traffic with children's cell phones aimed your way. Then there's the whole flipping thing. It's hot, it isn't actually that quick, and it definitely isn't safe to ride/drive fast-ish.
One friend described the Slingshot as a Miata that was missing both a wheel and the requirement to pass crash tests, all built to motorcycle quality standards (read: shitty). Given the way the big plastic fenders bounce around as you drive, I can't say I disagree.
But, here's the thing: NONE OF THAT MATTERS.

The most important thing about the Polaris Slingshot is that it's really, truly, exceptionally, and astoundingly fun. The Slingshot begs you to have a good time, and then more than happily contributes when you oblige. Polaris say the rear wheel only carries about a third of the Sling's weight which, when paired with it having only one piece of rubber at the rear instead of two, a low center of gravity, and low weight overall, means the rear tire is rarely spinning at the same speed as the fronts.
Every corner begs to be drifted, every parking lot a donut, and every stoplight a burnout. The gaudy looks, driving characteristics, and complete lack of barrier between driver and the real world (especially if not wearing a helmet) somehow gives you permission to own the obnoxiousness of the Slingshot.
The Slingshot is happier to slide than it is travel in a straight line. The low center of gravity and lack of rear weight or rubber means the back breaks ground with ease. Controlling the drift is another story, but an incredibly slow steering rack seems determined to make you really work for it.
For those of you who can don't take yourself too seriously, I'd even say you can delight in it. There's no way to not look ridiculous, so you might as well enjoy it.
For one glorious week, I chose to drench my clothes in sweat daily for another taste of the Slingshot drug. For one glorious week, nothing brought a smile to my face more than the sound of it firing up, despite that fact that it's exhaust sounds a little bit like a cat and a dog fighting inside a trash can. For one tiny little week, my eyes lit up at every corner that had a little extra room on the exit. For one single, glorious week, I listened to nothing but Meek Mill, the sound of my friends falling in love with it, or my girlfriend making fun of me for my love for it (but what else is new).

What We'd Change
This sounds preposterous to say, but my only real issues with the Slingshot are the heat and the brakes. The binders always got me slowed down, but they required way too much force and always left me wondering if I'd stop in time. Open air vehicles are always going to get hot on warm days, but the engine heat is a bit much. Give us some AC and point it low.
True drivers will hate the slow steering, but I sort of think it fits with the ridiculous nature. If you want to actually try some sporty driving, get a Miata - this is for fun, not performance.
If I were a new Slingshot owner, the first thing I'd do was toss a supercharger or turbocharger on it. Yes, 173 horsepower is enough to get the rear loose, but a ridiculous vehicle deserves ridiculous power. In stock form, you're also going to lose a lot of drag races, because everyone will challenge you. The lack of barrier between you and the outside world means you'll have no chance to hide from the shame as lowered Civics take you off the line. Don't let them win.
Why You Should Care
To be honest, I don't know if you should. When writing this section, I try to either think of who might have found this review in their research because they were shopping, or of how this product might lead the way to the creation of other vehicles that the reader may be interested in.
In my article about all of the weird shit I did with the Slingshot, there were a lot of questions about if I would consider buying one or if this would lead the way to a Polaris car.
The answer to the second is easy: no. Part of why Polaris was able to create the Slingshot was that, by claiming it isn't a car, they don't have to pass any of the safety or crash tests car manufacturers do. The build quality isn't even close to the cheapest of cars and that's just entirely too big an undertaking for what they're working with.
The answer to the first is tough. The thing about the Slingshot is that it doesn't do the same job as something else that exists, only better. It doesn't do motorcycle things. It doesn't do car things. It doesn't do off-road or performance things. I have to assume that people who buy Slingshots do so because they want something that does Slingshot things.
What I mean is, they saw one and thought it looked cool, or had a chance to drive one, and just thought it was fun. But, with a machine like this, that's perfectly okay. With that qualifier, there are absolutely situations in which I could see someone owning one - I just don't really know how to recommend them.
For someone like my friend CJ Wilson, who has other toys who do other jobs well, the Slingshot is perfect for driving around town, doing donuts in, or just general hooligan nonsense. If I had enough money to have several cars and had a few different motorcycles, I would love to own one too. I'd probably even drive it often. Because, for $25,000, this thing is a ton of fun and because fun matters.
It just doesn't matter enough to forgo a real car, a real bike, or a real track toy.
It's all the obnoxiousness and gets as much attention of the Ariel Atom or Scorpion P6, but costs far less and is far easier to get your hands on (1,700 dealers in North America).
Take a ride in the Slingshot and I think you'll get it too. I described it to those who asked, because everyone does, as being not very good at anything except for putting a big, stupid grin on my face and the faces of those in surrounding cars. Children flocked to it, little old men and women gave me thumbs up, and everyone else looked in awe, amazement, or confusion as I passed.
The Polaris Slingshot isn't for everyone or even for most, but I'm glad it's for enough people that it exists. Because, for those of whom it's intended, the Slingshot is pretty fucking awesome and fits the bill almost perfectly.
Photos by: Sean MacDonald and Chris Glenn
Sean MacDonald is the brand spanking new Editor of Lanesplitter. He likes long walks on the beach, searching for the best new burger spots to ride to, and his girlfriend says his snoring sounds like "braaaaap." Follow him and his adventures on Instagram, Facebook, and Twitter.