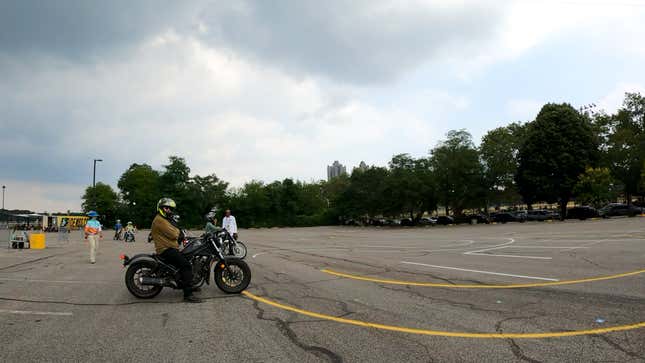 Being a car and bike journalist is weird. I've been licensed to ride motorcycles for four years, but I've really only regularly ridden them for one — yet manufacturers will trip over themselves to hand me the keys to a brand-new bike, fully trusting me to take care of it and write an informed review.

This, as you might imagine, can be stressful. It's easy to feel unqualified, like you don't deserve to be trusted with five-figure two-wheeled machinery. But as it turns out, there's a quick and easy solution to stomp out that imposter syndrome: Go retake the Basic RiderCourse.
Full Disclosure: The Motorcycle Safety Foundation ran a media-only course here in New York, and let me participate despite already having my license. MSF supplied the bikes, instruction, and a pair of gloves at no charge.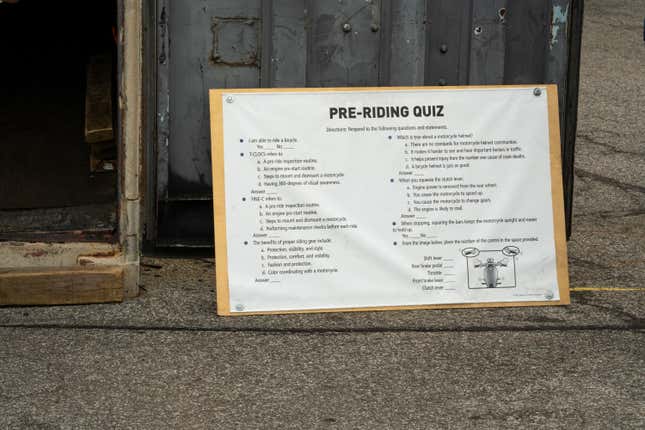 A few weeks ago, I had the chance to join Andy and Kotaku's Alyssa Mercante at an MSF course in the Bronx. I showed up to shoot pictures and video, of course, but I wasn't just a bystander — I did every exercise, listened to every instruction, and even took the full skills test. I wanted to see whether, over the past four years, I'd gotten any better at riding.
I warned the instructors ahead of time that I was already licensed, already capable, and would be arriving at the course on my own motorcycle — I'd still be an active participant, but they could focus their attention on the folks who would likely need it more. Yet, our trio of instructors didn't leave me to my own devices. Instead, they developed extra challenges within the preexisting exercises of the Basic RiderCourse. Slow speed exercises became even slower, precision operations more precise — every single exercise was made tougher within its existing boundaries.
Take the clutch-control lanes, where new riders wobble through tight paint-lined corridors at slow speeds, learning to use RPMs and a feathered clutch to keep the bike upright and stable. My challenge was stricter: Not only could I not leave the narrow lane, I had to traverse it as slowly as possible — even standing dead still, clutch fully pulled in, without toppling over. An exercise that had thrown me for a loop as a beginner now came with even tougher rules, but I didn't have any of my four-years-ago fear. Now, I relished the challenge — I was even finally getting those footless stops that, just last year, I'd wondered how Zack Courts could ever manage (at least, I think I was, given that my MSF bike didn't have a working speedometer).
Not only was I improving my skills, I was constantly reminded of how far I'd come — how much more control I had than that terrified rider of 2019, who would only venture out at night for fear of traffic. I'm still no all-star motorcyclist, I won't be winning any MotoGP rounds or venturing solo down to Ushuaia any time soon, but I'm better than I was.
When you improve at a skill, it doesn't always happen overnight. It can happen at a glacial pace, so slowly that you don't even see yourself getting better. It's only when you look back, years down the line, that you realize how much you've really improved — how much more confidence you deserve to have in yourself. Retaking the MSF was that way to look back, to compare one-to-one against my past self on those same courses, exercises, and judging criteria that had made me so anxious just four years ago, and truly understand how far I've come. With that added confidence, I think it's time to start testing out some more five-figure two-wheeled machinery.