Lincoln's mojo evaporated on November 22, 1963, when President John F. Kennedy's brains flew out of the backseat of an open-top 1961 Continental. On that fateful day, the brand (and the country) lost its swaggering insouciance. Sure, fancy schmancy Lincoln luxobarges roamed America's highways and byways during later decades. Many of these gas-guzzling behemoths were technological triumphs (of a sort). But Lincoln's cool had vanished, followed, eventually, by its swagger. By now a Lincoln is nothing but a badly badge engineered Ford. And yet there's still a car in Lincoln's lineup— for at least a bit longer— that wears the diamond proudly: the Town Car.
No question: the Lincoln Town Car is a dinosaur. It's the only remaining American passenger car still using body-on-frame construction. Its 4.6-liter V8 is an antiquated iron block single overhead cam lump that huffs-out a mild-mannered 239 horses @ 4900 rpm. The automatic transmission has fewer gears than you've got fingers on one hand. The steering is lighter than an anorexic dust mite. You need a boating license to corner. The Town Car is so antediluvian, so far removed from Ford's (or anyone else's) automotive gestalt that the model's product specialist has been moved to Purchasing (without replacement) and they're replacing it with a car built on a "modern" platform.
Bad move. The Lincoln Town Car is a magnificent machine, perhaps the last, best example of a "true" American car.
For one thing, the Town Car's ride is quintessentially American, and without peer. Up front, the luxoliner's suspension uses independent short- and long-arms (SLA) architecture with coil springs, monotube shocks and a stabilizer bar. In the rear, there's a four-bar link solid axle, Watts link, coil springs, monotube shocks, load-leveling air springs and... a stabilizer bar. Sophisticated? Not really. Road feel? None. Surface imperfections? Obliterated. Eradicated. Dismissed. Enthusiasts will blanch, and rightly so, but mainstream America's predilection for "armchair on wheels" dynamics is alive and well and living in the Land of Lincoln. You wanna tell them that clipping an apex is more important than wafting on Cloud Nine, be my guest. Next question?
G/O Media may get a commission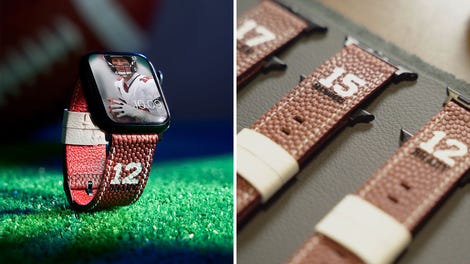 Official NFL PRODUCTS
Official NFL Apple Watch Bands
While Audi's got the Bauhaus to Our House upmarket hotel room design thing covered, the Town Car is still the King of lebensraum. In its stretch versions, the Town Car's rear compartment trumps the Audi A8L's shoulder room by 2.4" and out-leg stretches it by 3.1". No surprise there; the big Lincoln's a shade under 18.5' from snout to tail. The trunk is large enough to contain the entire Soprano clan (please!) AND their luggage. Equally important, the Town Car's epic dimensions give die Grosse American good old-fashioned porno-style crashworthiness ("bigger is better"). The Town Car was the first passenger car to receive five-star government safety ratings in all five categories.
NOW how much would you pay? Before you pick-up an 80k miler for pocket change, how about this: the Town Car is fantastic in the snow. A Boston limo driver once regaled me with tales of blasting through knee-high snow drifts, straight past stranded SUV's. He also offered mission critical testimony as to the Town Car's reliability; his limo had over 220k miles on the clock after nothing more than proper maintenance. He knew of a 310k miler. But here's the most important bit: he loved his Town Car. He knew it wasn't flash, or fast, or sporty, or gadget laden; but he admired its simplicity and, as he put it, "honesty."
In this my driver was not alone. If you've got a minute, head on over to Car Review . The owners' reviews are so glowing you could use them to light a small office building. For a month. The Town Car may not be your kind of whip— it's sure not mine— but you've got to admire any machine that engenders that kind of pleasure, loyalty and respect. The fact that Ford is axing Lincoln's rear-wheel drive stalwart, turning its back on its deeply-smitten customers, tells you all you need to know about The Blue Oval's misguided ideas about who it is, and what it should be selling. Bravo Lincoln. Shame on you, Ford.
[by Robert Farago]
Related:
More Required Riding [internal]