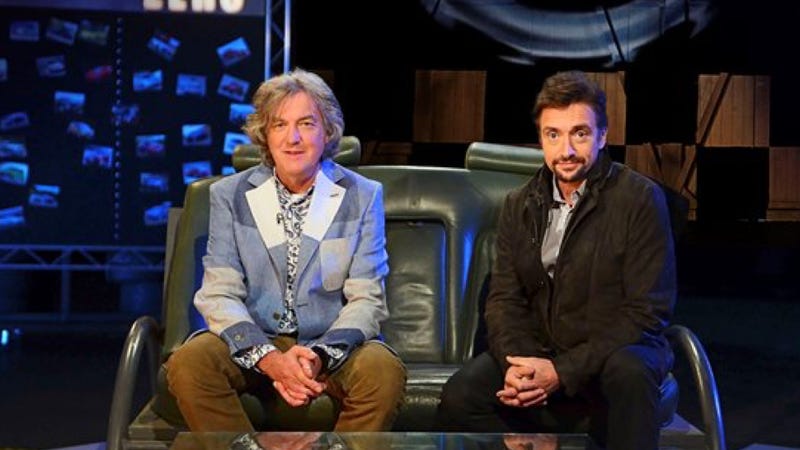 Chris Evans, Top Gear's newest host, was only offered the job late last week, he said in his first extended words on the new gig, while speaking on his radio show. But that's not really the big story. The weirder bit is actually about former TG hosts Richard Hammond and May. They were apparently considering a return right up until the very end.
The past few weeks have been a bit odd, for Top Gear fans. Once Jeremy Clarkson was gone, Hammond and May made a lot of noises about not renewing their contracts, and not being able to carry on without their friend. Evans, himself, explicitly ruled out hosting the show. But now Evans actually is hosting, and Hammond and May's noises might have been a lot more noncommittal than we thought.
At least until last week, according to Evans (emphasis mine, via TopGear.com):
Last Thursday, I got a text from Mark Linsey, who is head of entertainment for BBC TV. Basically it said, "Would you be interested at all in having a Top Gear conversation?"

I had never been offered the Top Gear job before that. [...] So I called Mark Linsey back, and Mark explained to me that the situation had changed in the last 24 hours because Richard and James had finally ruled themselves out of a return to Top Gear.

Before that, they were very much considering returning. The BBC had made an offer to them, I was aware of that. And I wanted them to return, wanted Top Gear to carry on, as a fan. And I thought, honestly, as a betting man, that was going to happen.

To be totally transparent, we had seen the rumors last week that Hammond and May were offered somewhere in the vicinity of £1,000,000 to stay on as Top Gear hosts, but we ignored much of it based on what Hammond and May had said previously. But the rumors now look to be (at least somewhat) validated.
Evans went on to say that the reason why he ruled out hosting it himself before the news drop, wasn't to mislead Top Gear fans at all. It was because he considers Clarkson, Hammond, and May friends of his, and he didn't want to insert himself between them.
Which makes Evans generally sound like a pretty good guy, even if he is from Wipplenottinghamshire.
You can listen to the rest of Evans talking about Top Gear here.
The last episode of the show under its old, most famous guise airs June 28th.
---
Contact the author at ballaban@jalopnik.com.
Public PGP key
PGP fingerprint: 0D03 F37B 4C96 021E 4292 7B12 E080 0D0B 5968 F14E