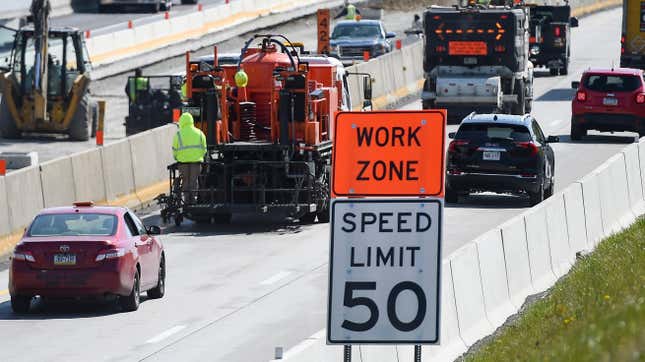 Standing on an active highway is likely one of the most dangerous places to be. The only barrier between someone standing on the pavement and a driver staring at their phone scrolling through Instagram is a bunch of high-vis orange plastic cones. According to a recent survey, highway contractors feel their workplace is more dangerous than last year, and I don't blame them.
A study conducted by the Associated General Contractors of America asked 900 contractors across the country about the conditions in highway work zones. The results were not encouraging. Of note, 28 percent of respondents answered that they experienced a crash where a construction worker was injured, and 59 percent experienced an incident where a vehicle occupant was hurt. Overall, 97 percent of contractors participating in the survey feel their work zones are as or more dangerous than last year.
Statistics in recent years from the Federal Highway Administration support the survey's results. The newest data shows 874 fatal work zone crashes in 2021, an increase from 780 incidents in 2020.
The AGC survey found that most contractors want stricter enforcement of work zone laws and automatic ticketing for speeding in work zones. Seven states have already implemented programs for work zone speed enforcement cameras. Also, Connecticut and New York launched pilot programs this year. Washington State is set to join them in 2024.
AGC wants to go one step further. The organization wants every state to require new drivers to complete a work zone safety course. As it stands, Oklahoma is the only state to do so. The survey's author Ken Simonson said, "Nobody should die because our laws fail to penalize unsafe operations in work zones in the same way they punish drunk driving and stigmatize not using a seat belt."