A start-up car rental company called FlightCar rents out privately-owned vehicles while their owners travel. Who wouldn't like to make a few extra bucks while they travel, but would you feel comfortable letting a complete stranger drive your car for several days?
The concept seems like it works similarly to the way Airbnb or HomeAway does with homes. You're not using it, so let someone else pay to use it while you're out of town. FlightCar operates at nine of America's busiest airports, including Oakland, where it just opened this week.
Renting a ride is a little bit cheaper, because FlightCar doesn't pay the same taxes as the big guys at the airport. And if you're into the whole sharing economy thing, maybe this is for you. As a renter, I like the familiarity of the typical Ford Focus or Hyundai Sonata from Alamo, Dollar, Hertz, or whoever. There's a built-in trust factor that comes with renting from an agency, plus my insurance company covers me while I'm renting from one of the well-known agencies.
FlightCar provides $1,000,000 in liability insurance and collision coverage up to the full cost of the vehicle, as well as mechanical damage caused by improper driving. Prospective renters have to join the FlightCar program, and provide proof of a good driving record. You're also protected as a renter with 24/7 roadside assistance and liability insurance. Each vehicle is also inspected by FlightCar to make sure it meets their safety standards.
G/O Media may get a commission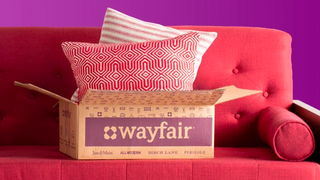 Big deals
Wayfair Surplus Sale
I priced a rental for a trip to Seattle I have coming up at the end of February. FlightCar offers me a compact rental for 48 hours for $38 for a 2001-2008 compact or $46 for a 2009-2015 compact. Traveling alone, I always go for a compact or economy, because they're cheaper and get the best gas mileage. For $39.37 I can rent from Fox Rent-A-Car, (via carrentals.com) and I know I'll get a newer car and now have to worry about potential mechanical issues. I just hate the uncertainty aspect.
Then there's the cleanliness issue, which is a big deal. Would you want to risk being stuck with someone's ratted-out gold/beige Accord? The one with parking lot rash, seats covered in Cheerios and a quarter inch of dog hair, a dirty diaper on the floorboard, and apple juice scum on all of the armrests?
The benefit to owners who put their car in the program is that you don't have to pay for parking while you're traveling, and your car is returned to you washed and clean. But there's also that all-important wear and tear factor. People drive the hell out of rent cars. I'm guilty of that myself. Maybe no visible damage occurred with the other driver, but they're still putting miles on your engine, your brakes and tires.
Forbes called FlightCar one of its Hottest Startups Of 2013. It's founders are only 20 years old, and they've put their education on hold. That's not to say they're doomed. Plenty of successful businessmen including Mark Zuckerberg, Steve Jobs and Bill Gates dropped out of school and went on to become billionaires. According to the Contra Costs Times, the company has $20 million in venture capital funding from investors such as actor Ashton Kutcher and Reddit founder Alexis Ohanian. Best of luck to these young entrepreneurs.