The Team Formerly Known As Renault is finally going back to being Renault's works Formula One effort. The struggling power unit supplier intends to buy a controlling stake in the struggling Lotus F1 team, which oddly, is the team Renault sold its stake in after the 2010 season to Genii Capital.
Cue The Lion King:
The FIA released the following statement about Renault's repurchase of the Lotus F1 team:
Renault Group and Gravity Motorsports S.a.r.l., an affiliate of Genii Capital SA, are pleased to announce the signature of a Letter of Intent regarding the potential acquisition by Renault of a controlling stake in Lotus F1 Team Ltd.

The signature of this Letter of Intent marks Renault's first step towards the project of a Renault Formula 1 team from the 2016 racing season thereby extending 38 years of commitment of the brand to world's premier motorsport championship series.
Renault Group and Gravity will work together in the coming weeks to eventually turn this initial undertaking into a definitive transaction provided all terms and conditions are met between them and other interested parties.
It's not finalized and purchased yet, hence all this "will purchase" and "intends to buy" talk for now, but a public letter of intent makes what we've all sort of known about for months sound like a pretty done deal.

Renault, of course, gets a works effort back in Formula One. Red Bull was the next best thing they had to one after Renault's works team became the Lotus privateer effort. They had a close relationship to Renault as their power unit supplier, but that will be no more after this year. The Renault power units had too much of a tendency to grenade this season and the manufacturer's relationship with Red Bull soured accordingly.

G/O Media may get a commission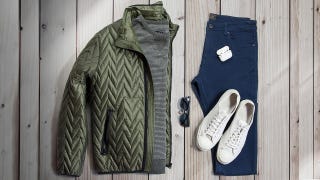 60% off
Jachs NY Fall Sale 60% Off
So, instead of giving up and withdrawing from the sport, Renault is fielding its own works team: The Team Formerly Known As Renault That Currently Goes By Lotus But Not For Much Longer.

Lotus comes out ahead in this as well. They've struggled just to pay the bills all season long. When they announced Pastor Maldonado would return to drive for the team next year, though, it was a mixed bag: yes, Pastor brings money, but it also suggested that the team had found a way to stick around for 2016. Now we know: it's because Renault's going to buy a controlling stake in the team again.
Motorsport.com reports that Renault was supposed to conclude a deal today over their unpaid taxes with HM Revenue & Customs, Britain's tax authority, but a judge adjourned the case until December 7. If no deal is made, the team will go into administration (akin to Marussia and Caterham last year). However, it sounds like Renault is already offering to help pull the team out of debt.

"It is hoped that HMRC will be paid this week," said Lotus lawyer Tina Kyriakides to the court, as quoted by Reuters.

Per Reuters, the team owes the HMRC $2.1 million dollars for taxes between 2009 and 2014, although that amount is under dispute.
The adjournment also protects Lotus from other creditors in the meantime, including Proton, who is owed licensing fees from letting the team use the Lotus name. Proton lawyer Lloyd Tamlyn told Reuters that he's seen "no offer of payment whatsoever" from the Lotus F1 team or Renault, and he wishes the adjournment had been shorter accordingly.

Proton's argument was rejected by the judge because the judge believes that the Lotus F1 team will be better able to pay off all of its creditors after they are purchased by Renault.

According to Formula One, the team will compete as a Renault works effort starting in 2016. Renault's first works team appeared in 1977. Only Ferrari and Ford engines have more wins in the sport. Will a Renault works team back on the grid mean a return to form for the struggling power unit supplier? We'll find out next year if this sale goes through.
Photo credit: Getty Images

---
Contact the author at stef.schrader@jalopnik.com.