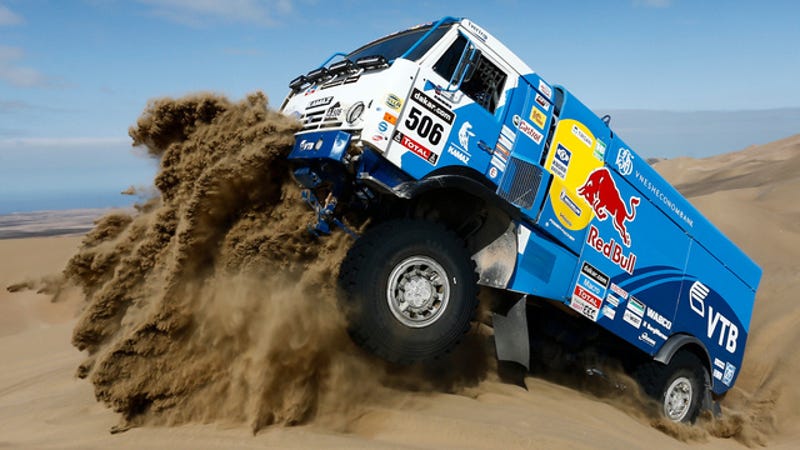 Truck Yeah
The trucks are good!
Iveco's Gerard De Rooy had been valiantly holding off Andrey Karginov in the Red Bull Kamaz for the entire Dakar Rally until a tire puncture cost him time in Stage 11, allowing the Russians to pull ahead and finally take the overall lead.
Stage 11 of this year's Dakar was not exceptionally long, but included the Atacama Desert wrought with soft terrain and obstacles obscured in sand.
Karginov and teammate Eduard Niko (also in a Kamaz) took first and second in the stage for trucks, with De Rooy's Iveco Powerstar in third about sixteen minutes behind the #1 spot.
De Rooy spit fighting words for his rival when asked about strategy in a post-stage interview: "We will do our thing and hope that he has a problem or gets stuck or whatever." Well... DR's probably got a more colorful vocabulary in his native Dutch.
Overall standings for the trucks now have Red Bull/Kamaz in 1, Iveco seven minutes behind in 2, and the other Red Bull rig in 3 a little over an hour and a half behind first place.
With just two days left, the Dutchman De Rooy is going to have to really dial in and wring everything out of that 12.9 liter engine he's pushing if he wants the gold.
For the cars, the podium is all but decided; Peterhansel is being ordered to hang back in second behind teammate Nani Roma, both in MINI ALL4s. MINI also owns third and fourth place, with the closest competitor (Toyota) about twelve minutes behind the slowest one.
Cyril Despres won Stage 11 on his Yamaha motorcycle, but Marc Coma is still a good two hours ahead overall.
On the quads, Ignacio Casale took first in Stage 11 which earned him the same rank overall.
Complete rankings were published on Dakar's official standings page.
It's going to be an exciting Dakar finish for truck fans!
Image: AP