At Le Mans in 1999, Mark Webber suffered two identical crashes in a Mercedes–Benz prototype, launching straight into the air on the Mulsanne Straight. Little did he know that history would repeat itself at the 2010 European Grand Prix.
Young Webber was a member of the Mercedes–Benz team returning to Le Mans after an absence of 44—or eight, depending on how you count—years, campaigning the slick-looking CLR prototype, which would prove to be an aerodynamic failure of epic proportions.
During qualifying and warmup, the car rocketed into the French sky not once but twice with Webber at the wheel, then, in the race proper, Peter Dumbreck suffered the same fate.
Note: This clip shows Dumbreck's accident, with commentary by Webber. No footage was taken of Webber's shunts, but you can see the aftermath of his second flip in this video at 02:33.
G/O Media may get a commission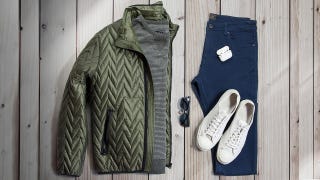 60% off
Jachs NY Fall Sale 60% Off
It is a testament to modern racing car construction that both drivers escaped unharmed, but as the 24 Hours of Le Mans is primarily a ground race, all remaining
CLR's were withdrawn after Dumbreck's backflip.
Fast forward 11 years to the harbor circuit of Valencia, home to the 2010 European Grand Prix. Mark Webber, driving a Red Bull, closed in on Heikki Kovalainen's Lotus, touched his right rear wheel, and launched into the air in an eerily similar fashion. Contrary to late '90s Le Mans footage, we have multiple angles of the surprisingly sterile carnage:
The commentary you hear is by Lotus technical director Mike Gascoyne and former F1 driver turned BBC pundit David Coulthard (Scottish accent!), who had a long and heated post-race conversation about an issue which has affected Formula One since the beginning of this season but which has not come to a head in such a dramatic manner until this race, namely that there's currently a massive speed difference between the leading cars and the new cars in the back of the pack. Normally, these cars don't race for position, but when they do, as was the case here, interesting things will happen.
In an entirely unrelated note, Valencia Street Circuit is quickly turning into the new Monaco in that you can watch the race from a swimming pool in the company of scantily clad European women hopped up on champagne and Red Bull. And similarly to Monaco, the passing will not distract you from the curves.
Photo Credit: Formula One, Ker Robertson /Allsport, AP Photo/Fernando Hernandez, Mark Thompson/Getty Images