Nearly four miles of track at Silverstone Circuit in the UK got a full repave this year for the first time since 1996, after complaints of increased bumpiness. The new stuff was smooth at first, but rapid degradation made for a bumpy Formula One race and a canceled MotoGP event.
MotoGP was supposed to run at Silverstone over the weekend, but heavy rains and standing water on the track led to a full cancelation of the race. Series race director Mike Webb blamed called the cancelation "a direct result of the track surface," according to Autosport. Racer later reported that the track is looking into an investigation of what made the surface so impossible to work with.
Webb said MotoGP has "a number of years of experience" running in the wet at Silverstone, and could still run in them with the old surface. That wasn't the case this year, Autosport quoted him as saying:
"This year with the new surface is the first time we've encountered quite so much standing water in critical places of the track.

"When we've been running here in heavy rain, the circuit in some places is not safe because of the way the water does not drain from the surface.

"We did everything we possibly could to run an event today, obviously the very last thing any of us wants to do is to cancel an event. However, safety remains a priority."
Webb said even when rain lightened up, the surface wasn't in a safe condition to run. MotoGP tried moving the start time up on Sunday, missed that goal, then delayed the race until deciding it couldn't delay anymore. MotoGP discussed racing on Monday, Webb said, but "concluded that that was not a possibility."
Repaves usually help with weather delays, at a high cost—there don't seem to be any numbers out for Silverstone, but the recent repave of 1.5-mile NASCAR track Texas Motor Speedway cost $5 million, according to the Dallas Morning News. Silverstone is more than twice that length.
G/O Media may get a commission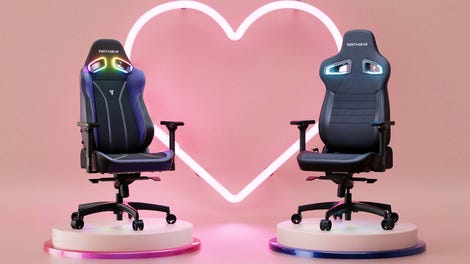 Up to $150 off
Vertagear Gaming Chairs
But Reuters reports that a Honda statement talked about "drainage issues" at Silverstone's MotoGP weekend, and the new track surface wasn't looking great before then. During F1 in July, some drivers thought the new surface was better and others thought it was worse than the 22-year-old surface was.
Autosport reported that title leader Lewis Hamilton complained, and Sebastian Vettel said there were "very small bumps, but it's like all the time, chattering around." Kevin Magnussen said the repave hadn't "really helped anything," and Carlos Sainz Jr. said he felt sorry for MotoGP riders who asked for a less bumpy track and were "probably not going to get what they wanted."
The odd thing is, F1 could be partially to blame. Autosport reported in 2017 that rider Cal Crutchlow felt bad for tracks hosting both series, because of the belief that new, higher-downforce F1 cars are shifting track surfaces—making them bumpy enough for MotoGP riders to say something. The belief, Autosport reported, is that cars ripple braking zones and push asphalt across the surface in fast corners with high downforce.
Crutchlow even said F1 cars can mess up new surfaces in the course of a year, citing a couple of incidences. From Autosport:
"They've resurfaced a couple of corners here [Silverstone] and they were a lot better, so how about we resurface the whole track? It'd be a lot easier for all of us.


"The problem is that wherever we share a track with F1, the tracks are bumpy within a year [of being resurfaced], so I understand the concerns of the organisers."
Racer reports that Franco Uncini, the safety officer from MotoGP's governing body, the FIM, said Silverstone is looking to do an investigation into what went wrong. Uncini said the track was fine during a test at the beginning of the year, meaning "it was a degrade from March to July."

Here's what else he said, via Racer:
"We had a discussion yesterday (Saturday) about the improvement of the asphalt. They are looking for an investigation that will take around six weeks, to let us know what really was the problem. We will wait to see the outcome… but for sure they will need a new asphalt."
Silverstone posted a video on Facebook after the MotoGP cancelation, with the track's managing director Stuart Pringle saying the long wait just to cancel the race was "absolutely not what [the track] had planned." He mentioned money spent on tickets, and said the track would contact buyers "to explain what [it's] going to do." That's a cryptic way to allude to a potential refund.

"I wanted to apologize personally to all of our race fans who came to MotoGP to watch the championship ... and were subjected to the most extraordinarily long wait in the foulest of British weather conditions, which ultimately resulted in no race at all," Pringle said. "I am so sorry."
Update: Tuesday, Aug. 28 at 2 p.m. ET: Motorsport.com reports that Pringle defended the track resurfacing, saying, via the story:
"I do not accept the criticism of the circuit and resurfacing because none of us have the data to substantiate those claims," he added.

"It's conjecture and completely overlooks the significant rainfall that fell on the day and caused many other events across the country to cancel.

"I don't think the cancellation was a reflection of the track, it was just the sheer volume of water. In wet warm-up the riders were only 8.5 percent slower than dry times and the norm is 10-15 percent so that indicates a very grippy surface. [..]"