John Fitch is a legend. He's been kissed by Evita, done time in a POW camp, designed cars, and saved lives on the highway. He raced for Mercedes-Benz. Stuart Fowle at Kilometer spoke with him. Need a hero? —Ed.
John Fitch isn't as much of a household name as Mario Andretti or Juan Manuel Fangio, but he's a racing legend and a hell of a guy in his own right.
His list of accomplishments reads like something out of a John Wayne movie: He flew P-51s in World War II and was thrown in a POW camp. (George Patton liberated him.) He's been kissed by Evita. He won his class in the 1000-mile Mille Miglia Italian road race, designed five cars, and invented those yellow barrels of sand that keep people from dying when they drive into bridge abutments or the ends of guardrails on the highway. He was a factory driver for Mercedes-Benz when the company was racing its remarkable 300SL Gullwing sports cars, and despite hauling ass over thousands of miles of pavement all over the world, he managed to live through an era that killed off most of his competition.
John Fitch is now 92. He still lives within spitting distance of Lime Rock Park, the Connecticut race track that he once managed. We had the chance to interview him during a Mercedes-Benz press event; because he's such a great storyteller, we've turned our interview with him into a series of thoughts and statements.
G/O Media may get a commission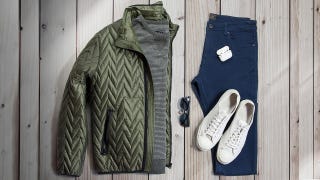 60% off
Jachs NY Fall Sale 60% Off
This is one man's long life behind the wheel:
"My first racecar was an MG TC. It was horrible. Solid axle up front, solid axle at the rear, and a very loose body. But it did look good."
"I raced for Briggs Cunningham at Le Mans in 1952. In the pits afterwards, I congratulated [legendary Mercedes-Benz designer] Rudi Uhlenhaut on the success of his improbable racecar [the original Mercedes-Benz 300 SL], which he conceived using sedan parts. He invited me to come drive it at the Nürburgring. That's how it started."
"Seven years after I left a German POW camp, I was running races for Mercedes-Benz."

"I had dinner with Orville Wright once in the 1940s, shortly before he died. I walked into this friend's living room and saw this old man playing around on the floor with someone's children. I didn't realize who it was until he got up. When he found out that I had flown P-51s, he spent most of the meal asking me about the air war in Europe. He wanted to know what it was like, how it worked. He was fascinated."
"That '52 Cunningham — an American car, an American engine, run by an American — should have won Le Mans that year. It was the fastest car out there. But engine trouble related to the octane of fuel put us out of it."
"The 300 SL [Gullwing] was a terrible concept for a racecar. With all of its parts borrowed from a sedan, it was far behind on power, and its solid rear suspension was no good. We cheated that by adding fabric straps — they limited the movement of the suspension. We lost a lot of travel, but it made it a much better race car. The car didn't win because it was fastest. It won on durability."

(Note: The Mercedes-Benz-supplied video above is a bit cheesy, but it lets you hear Fitch's voice, and there's a bit of neat period footage. It's worth a look. —Ed.)
"We also won by not crashing cars. I could have been doing some legs of La Carrera Panamericana [the legendary Mexican road race run on open, often unfinished roads] at 160 mph, but I took them at 120. I was saving the car so it could run the next day. That's what [Alfred] Neubauer, the team manager, appreciated. I could have been faster, but I could have also not finished. We were smart about it. Sure, we were all going at ten-tenths, it's just that some drivers took it even further. They got injured, or even killed."
"You couldn't pre-run the Panamericana. It was too long. You just had to be careful. If you blew a corner, you were out of the race."
"The biggest problem with La Carrera was tires. If I wouldn't have had tire problems, I think I could have won the whole thing. But we were changing tires constantly. I chose my co-driver not on navigation skills, but how fast he could change a tire. We could do one in a minute and forty seconds."

"The people (spectators) were crazy. We'd come [racing] into places like Mexico City, and they'd crowd the streets as we were coming in. They didn't leave a path. There were, at times, some moral dilemmas involved..."
"I averaged the last leg at 135 mph. It set a record, but it was too little too late."
"I raced in a special Grand Prix in 1951 in Argentina for Juan Peron, who enjoyed auto racing. I was given the trophy and kissed by Evita Peron, shortly before she died of cancer. No one knew she was sick."
"Picking a favorite race car could mean two things. There are good race cars to drive, and there are good race cars for winning. My favorite for winning was the 300 SLR, because it was so durable."

"I once crashed an SLR tail-first, pretty bad, and just kept on driving. We averaged the same times as before it was crashed. Turns out one of the spare tires in the rear absorbed most of the impact."
"I was given an Allard early on as a racecar, but it was wrecked. We didn't have any frame-pulling machines then, so I chained the damaged corner to a tree and gently pulled that corner back into place. That's how we did things then."
"I can't appraise the [current Mercedes-Benz AMG supercar] SLS unless I get it on a circuit. Hopefully one I know, like my home circuit at Lime Rock."
"I don't expect much out of my road cars. I have a Mercedes 240. It's a good car."


Kilometer Magazine focuses on the great cars — past, present and future — from Germany, Italy, England and Sweden, and even the occasional machine from France or Spain. They produce nice stuff, and we like them a lot.
This story originally appeared on Kilometer on May 27, 2010.