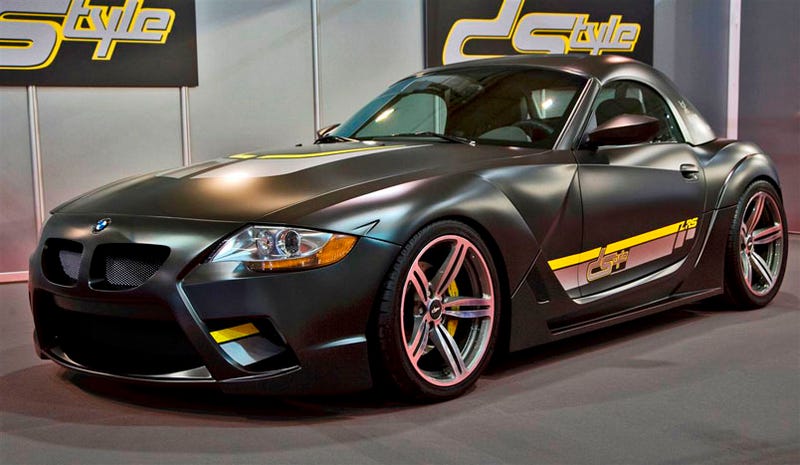 Apparently, the under-capitalized German tuner dstyle set LeMans racer Dominik Schwager loose on the current generation BMW Z4 and what you see is the result — a very gaudy Z4.
Because dstyle sent us four press releases, all in German, we've got a machine translated version below, so the details might be a bit twisted in the Gerglish result. From what we can understand, the styled cars are dubbed BMW Z4 CS for the hardtop and BMW Z4 RS for the soft top. Each gets a 10 piece body kit styled with help from Lemans Porsche driver Dominik Schwager. The car is 50 mm wider up front and 70mm in the rear to house fatter tires on 19 inch wheels. To finish it off the Z4 features custom mirrors to add an extra dollop of ugly. A limited run of 100 units will be available, cast in carbon fiber and selling for a scalding 8,900 Euro or $12,433.
Poorly translated press release below.
Uniquely of dstyle: BMW Z4 RS

From the racetrack on the road. During dstyle in Erdweg, near Munich, BMW vehicles get exactly what they deserve: fine tuning, unique individualization.

The concept and design of dstyle is heavily inspired by motorsports, as Dominik Schwager, the man behind the project, has been active for 20 years on the racetracks in the world is underway.

The Japan Legionnaire Dominik Schwager was for many years in Japanese racing committed. There, the 32-year-old international professional maturity fetched. Audience in the Japanese GT Championship (technically comparable to the DTM), he can celebrate many victories and has been two years back on German race tracks on the road.

On the basis of the current BMW Z4 roadster and coupe Dominik Schwager developed a 10-piece refinement package that the sports considerably athletic appear. The aerodynamics package, in order to guarantee exclusivity, limited to 100 pieces and called for the coupe "Z4CS" and for the roadster "Z4RS."

To the hood, doors and tailgate, the car with the aerodynamic package completely changed. No question: The proportions are now consistent and athletic, so there are lush 50mm front and 70mm rear more space to even bigger wheel / tire combinations to accommodate. With the wider track is an improvement of driving dynamics achieved without compromising the air resistance is too strong to affect.

Through the new aerodynamically shaped mirrors, also the possibility the side blinker, which in the unsuccessfully explored fenders, now existing in the cavity of the mirror construction.

The face and back of the BMW was a particularly sporty-looking front and rear equipped. The silhouette of BMW Z4 emphasize the new and widely exhibited side skirts, with the front and rear Kotflügelverbreiterungen perfect finish. With the new rear fenders is on the right side a sporting Tankdeckel been integrated.

The unique aerodynamic package is available from 8900.00 euro - the whole thing in CSF and can be manufactured Carbon!

But what would be perfect tuning without a new factory wheels? Perfectly fits the 19-inch sports rim of the new BMW M6-dstyle exterior package. The rims with tires in size 245/35 ZR19 and 275/35 ZR19 equipped.

More information about the extensive dstyle aerodynamics program is available at: