When I was a kid, my dad would build control panels out of cardboard, set them up under our dinner table and made me a spaceship. I spent hours "flying" that heap of recycling and I'll never forget how fast and futuristic I imagined I could be. The cockpit of the Lamborghini Huricán is the closest I've felt to outer space since then.

(Full disclosure: Lamborghini's PR agency invited me to a private race track called The Thermal Club where I was given half a day to drive Huracáns under the supervision of professional driving instructors. This is the "Esperienza" treatment- the showcase Lamborghini gives potential customers to get them fired up about raging bulls. The company had me put me up in a nice Palm Springs hotel for a night and bought me a coffee, too.)
In 2014 the Huracán took the Gallardo's place as... I mean, I'm not going to call it "the cheap Lamborghini," but it does look like a deal at $240,000 parked next to its V12 stablemate, the $400,000 Aventador.

Like the Gallardo before it, the Huracán runs a 5.2-liter V10 mounted directly behind the cockpit. But thanks to an advanced Iniezione Diretta Stratificata fuel injection system and a few other tweaks, it's now blasting out about 602 horsepower at a screaming 8,250 RPM. The "LP-610" designation refers to the engine's output in metric horsepower, for those of you who are confused.
G/O Media may get a commission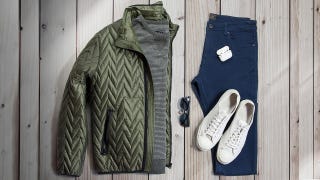 60% off
Jachs NY Fall Sale 60% Off
The Huracán gets better gas mileage than the Gallardo, too. It even got cylinder deactivation in 2016 and is now good for a claimed 21 mpg on the highway. That's downright amazing for an engine that can summon such violent force to all four of its tires, and I'm sure, something Lamborghini owners will definitely care about.
We didn't quite hit that figure of efficiency on the race track, though.
I was hoping to get some deep insights on how exactly the Huracán felt differently with RWD and AWD in some rough, tight-fisted turns. But we ran the rear-drive car in the morning, so I still had a full coffee in the cupholder. Come on, you know how bad those lids are.

Fortunately for casual and incompetent drivers both are surprisingly hangover-friendly. Acceleration is smooth, the cabin is much quieter than the car's appearance suggests and the chassis is flat flat flat when you mash the go-pedal or whip it through a slalom.
The sense of the car's mass being behind you, right behind you, is a constant. Charge ahead and you're pushed, not pulled, to 60, 90, 120 mph as effortless and mightily as if you were strapped to the front of a rocket. As you slice and dice through corners the car's colossal ass-end chases you, as fixed and firmly planted as a shadow.

The Huracán built an aura of pure stability in a just few moments of vigorous driving, but that was shaken under hard braking. Literally. With a full boot on the brake pedal, the car shimmied and skirted inconsistently. I never really got the hang of reeling it in from serious speed, which made me a less comfortable racing toward the entrance of a corner.
But weeks after my lukewarm laps, the Huracán sound and speed and shuddery braking aren't what I was left thinking about. It's the interior, filled with sharp angles, lights, overstyled switches and a ridiculously deep seating position.
I'll never forget it, because it was so overwhelmingly exciting.
The McLaren 675LT's cabin felt more focused, and the inside of a Spyker C8 Preliator is decidedly more artful (than just about anything, really) but I've never been in a cockpit that sells a flyboy fantasy better than the Huracán.
Even with standard outward-swinging doors, no scissor-jobs for the less-expensive Lambo, getting into the car is an event. Swing your leg into the footwell and your body follows, dropping way, way down like you're climbing to a water slide. And if you spec'd the carbon fiber seats, prepare your ass for a paddlin' because those things are stiff as Frankenstein's backbone.

The thin strip of padding between you and solid matter forces a gentle ingress, but it also makes the V10 feel like a jetpack you've strapped on as soon as you strap in.

You're so deep in the car you feel like it's on you, not around you. It's dark and intimate, with light glinting off each interesting switch like a jewel.
The windshield seems like it's about a mile away, while the roofline might as well be a hat. The gauge cluster is a masterwork of digital animation, and so too is the little digital screen above the center console switchgear displaying oil pressure and water temperature.

Each of those switches looks important enough to dispatch a missile or help you leave orbit, even the damn door locks. The chunky vents, which would look cartoonish and ridiculous in any other car, only contribute to the intensity of the cabin.

The steering wheel's proudly chunky as the rest of the car, and the paddle shifters shaped like mechanical devil horns are a subtle evil influence on the person in the driver's seat.
Driving the Huracán hard felt fast and fun. But the design and execution of the cockpit stoked my imagination more than actually wringing the thing around a track. Great news if you're planning on buying one and sitting in Beverly Hills traffic which, as far as I can tell, is a requisite of supercar ownership in general.

These cars are all about realizing fantasies, but the Huracán's interior lit my imagination up immediately in a way nothing has since my childhood cardboard spaceship.